Remember in high school when everybody made fun of the kid with the roller backpack? Neither do we—that kid knew they were doing. Not to say roller backpacks are… in vogue, but we do understand the allure of pure, unadulterated functionality. However, not every situation calls for a backpack on wheels, and not every backpack on wheels is something that you'd like to be seen in public with. Enter: functional, smart travel packs.
We want laptop pockets, but we also want our trusty companion to look good squeezed into a coach seat on our way to, I dunno… Iceland? (Post-vaccination, of course—you've gotta bring that card.) We want sleek and effortless style, but we also want to be able to haul all of our tie-dye longsleeves through customs without our backpack looking too bulky. Unfortunately, this might mean ditching your trusty bookbag from college—you know, the one with the holes and pockets you generally never open—and upgrading your gear. Now, you could always go the Jansport route, but we're unsure if that's going to be cheugy in the not-too-distant future. It can be tough to find that sweet spot in the Venn diagram between functional and fashionable, which is why we put together a few of our favorites to help you look your best on your next day trip, overnight excursion, or continental couch surfing tour. 
We're not talking about actual luggage (though we certainly have spoken on the matter) or summertime it-bags (once more, for the people in the back). No, we're talking cool carry-ons, haute hiking packs, transforming totes, and everything in between. 
This will compliment your linen button-up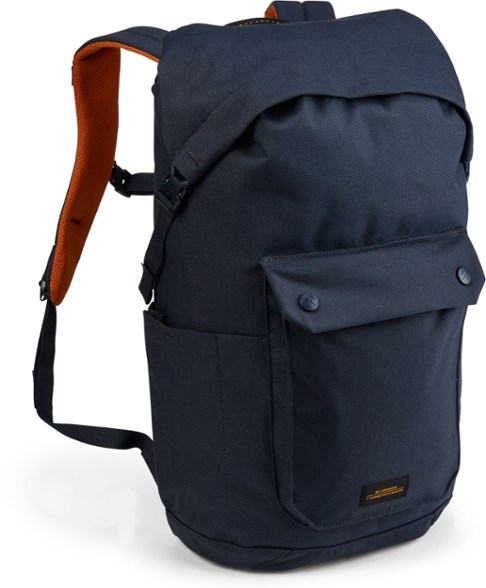 You collect copies of Kinfolk, and likely have a ceramic single-cup drip situation. God, we feel loved here. Swaddle us in its heavy-duty, 1050-denier nylon shell fabric. 
REI Co-op Norseland Pack, $99.95 $49.93 at REI
You're an organized King
This backpack is nicer (and bigger) than most apartments we can afford. Its breathable mesh back panel eliminates the ol' summertime back sweat, and it also has a full wraparound zip opening for easy access to its spacious main compartment—if you catch our drift. 
The Front Pocket Backpack, $195 at Away
Calling all aspiring magicians
"Rollaway" is a bit misleading, as this Maharishi bag doesn't have any wheels. You can, however, make it disappear—or, at least roll it into a little backpack burrito. 
Maharishi Rollaway Backpack, $45 at Bodega
This is what the kids are wearing these days
You, too, can be *hip* with this durable backpack by Acne Studios. It has a clear, vinyl ID pocket (or vaccine card holder) and two "generous side pockets." Are they buying the next round?
Large backpack black/orange, $320 at Acne Studios
You want people to know you're outdoorsy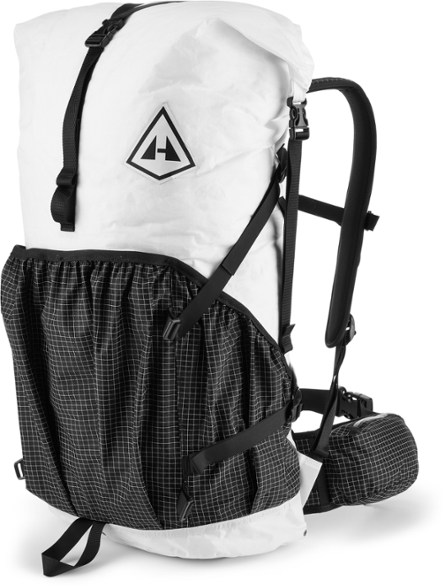 This skews functional, but we can totally envision the wearer standing in the airport or train station, boots barely dry from the morning's hike, sun-kissed skin and salt-and-pepper hair shining in the glow of an Auntie Anne's pretzel booth. Mmm.
Hyperlite Mountain Gear 2400 Southwest Pack, $320 at REI
Can you tie it in a knot, can you tie it in a bow
Can you throw it over your shoulder like a continental soldier savvy traveler? If so, this sling bag is a great backpack-adjacent alternative.
The Sling Bag, $125 at Away
Who is Isabella??
And what did she do to have such a choice, 92% recommended backpack made in her namesake? Perhaps she scaled Everest. Or maybe she's the most compact packer this side of the Rockies, because her eponymous back sack does a great job of blending ample pocket space and size with a non-cumbersome size. It's also not over-designed, which is cool if you have a habit of getting stretchy ties caught on doorknobs.   
Women's Isabella Backpack, $85 at The North Face
You may eat crayons
A slight nod to the 90s with its weightless-y fabric and color blocked design, this backpack is for the Memphis Design heads, and should also consider starring in its own Nickelodeon show. As with most Hollywood-ready backpacks, it has a faux-roll top (the equivalent of a car spoiler for bags) and a proportionate amount of bells, whistles, and pockets to keep our serotonin levels singing. Who needs friends?
Mokuyobi Faux Roll Top Backpack, $184 at Urban Outfitters
The monolith
Didn't they find this in the Utah desert? (See: monolith-gate.) If you're into minimalist Japandi design, tuck your sheets into your bed every morning, and have a middle part: this is the backpack for you.   
The Backpack, $165 at Away
Trippin' with the bros
And by trippin' we mean pounding Lagunitas tallboys until you fade to black on a domestic flight. Don't worry, you'll be able to fit everything you need into this brutalist, heavily branded backpack by cult-fave camping brand YETI. 
Panga Backpack 28, $299.99 at YETI
This is how backpacks hang-ten
What are we, high chair babies? Roller coaster chasers? You don't always need to fasten into a backpack with such intensity. Opting for the single sling look is a bold move, but you are a bold jabroni. How many scenes have you seen, where the Resident Cool Student walks up to his pals in the hallway, oh-so-casually, with a single sling slung over his slinger?  Every scene. 
Patagonia Atom Sling, $59 at REI
The Optimus Prime of backpacks
This Convertible Backpack Tote by Away is the last vestige of our childhood love of Transformers. (But, instead of being a truck-alien hybrid voiced by Peter Cullen, it's a bag made in collaboration with Serena Williams.) Its product description mentions it has "pockets for days" (hello, fellow kids!), with storage for your phone, passport, and water bottle, as well as two laptop sleeves. Plus, it has a sleeve that can secure it to any Away luggage.
The Convertible Backpack Tote, $225 at Away
We must have the fancy pack
If you're a sucker for functional fashion, a good backpack is a worthy investment. "Technology and functionality are as much a part of the Stone Island ethos as impeccable style is," or so we're told. It's Stone Island—need you really know more?
Stone Island Backpack, $505 at Bodega
Fill 'em with books, with clothes, or with your (hopefully X-ray-proof) Rae Dunn contraband. 
---
The Rec Room staff independently selected all of the stuff featured in this story. VICE may receive a small commission if you buy through the links on our site.