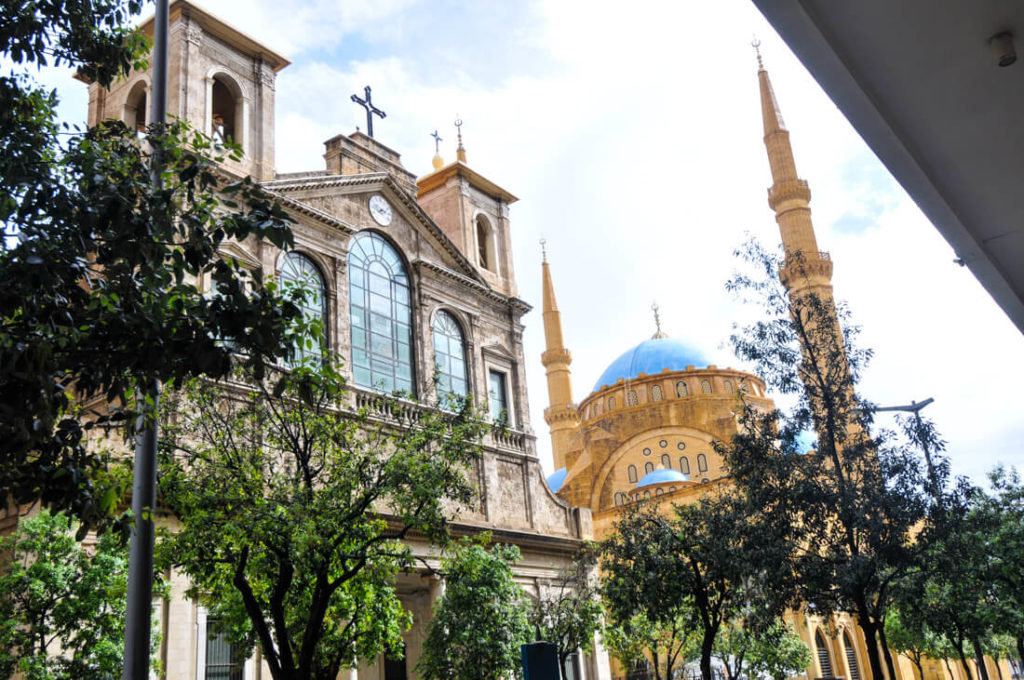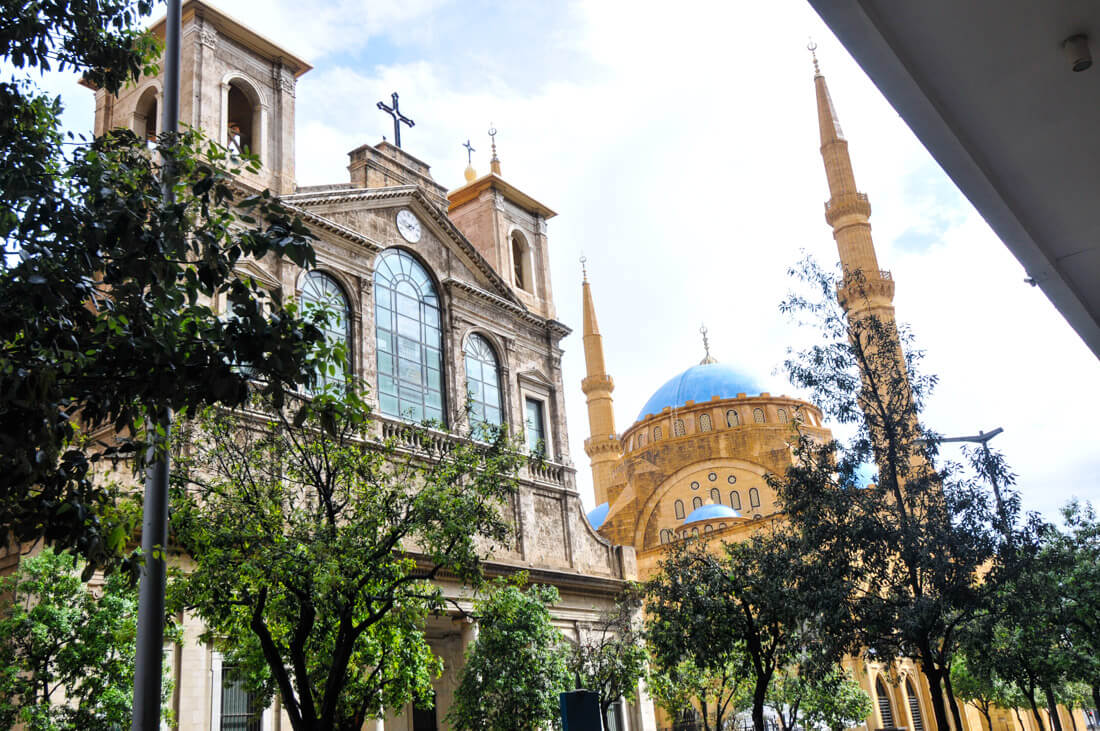 Lebanon is currently going through a deep economical crisis. Read:
How to travel in Lebanon during the crisis
Beirut, the capital of Lebanon, is a city that suffered one of the longest contemporary Civil Wars (25 years, ended in 1991).
However, today, among all the destroyed buildings, Beirut brags about being one of the safest cities in the region and, with unbelievable economic growth and the rapid rise of the middle class, it also stands as the most liberal and westernized city in the Middle East, outside of Israel. 
I love Beirut because of its deep, rich and contrasting history, composed of dozens of districts that differ massively from each other: the hipster district of Gemmayzeh, Hezbollah areas like Bourj al-Barajneh, the student neighborhood of Hamra, old Palestinian refugee camps, the Armenian district of Bourj Hammoud, several Christian areas and much, much more!
Beirut is one of the most culturally diverse cities in the world.
Furthermore, in Beirut, you also find the best food and parties in the Middle East. Did you know that 40% of the population are Christians? Surprised? Beer is widely available and, you know the best of it? Drinking in the street is allowed!
From the deepest underground parties to the most glamorous clubs, from local eateries to the best fine dining restaurants in the region, Beirut is a city adaptable to any kind of traveler and budget. 
The following Beirut Travel Guide will show you the best things to do in Beirut, as well as how to move around, accommodation options and many other travel tips.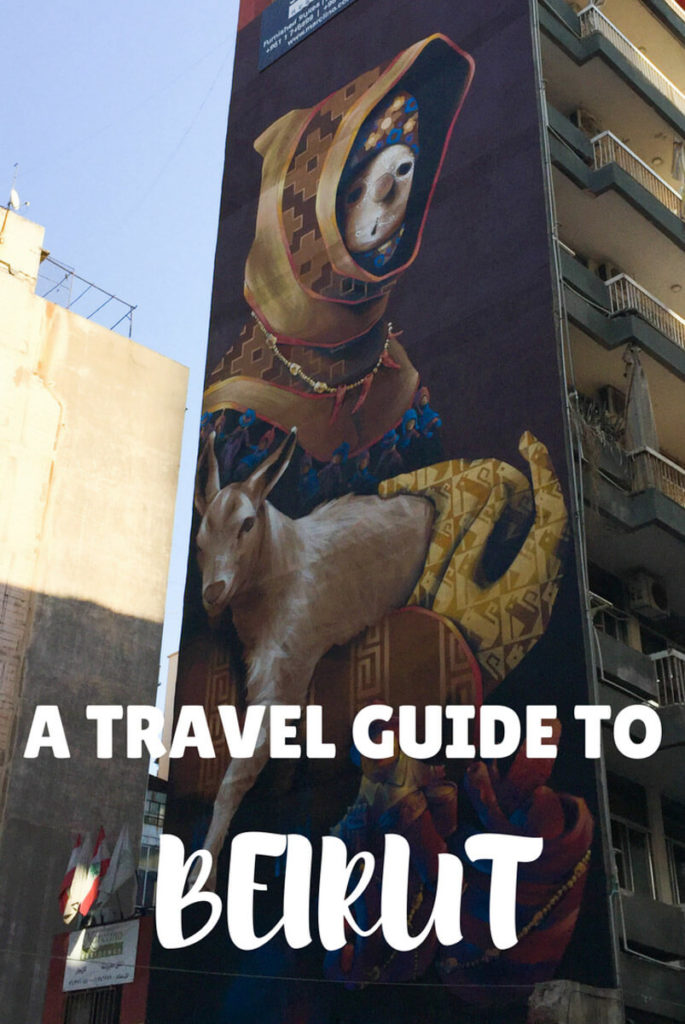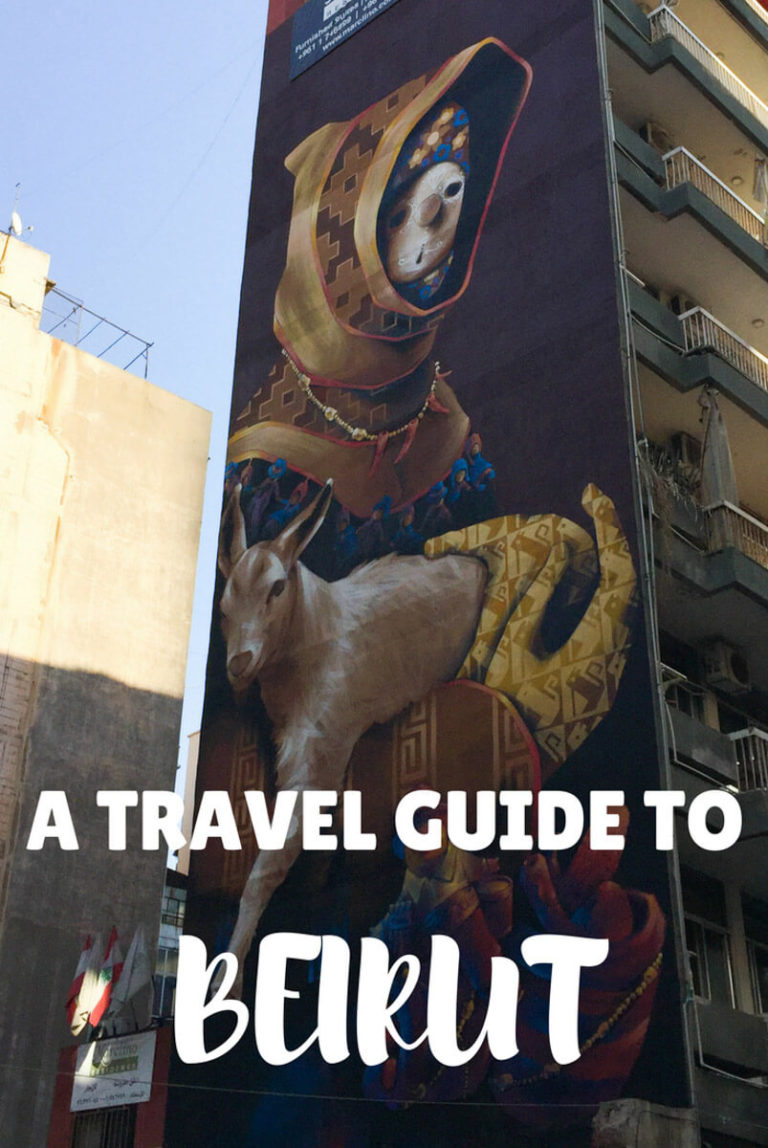 Visiting Beirut during the crisis
As you know, the situation in Lebanon is absolutely awful, and things are not expecting to get better any time soon.
The currency keeps devaluing, the exchange rate versus the dollar dropping from 1500 to 27000 Lebanese Pounds in just a few years.
The first thing you need to know before traveling to Beirut is that Lebanon has become today a cash economy, since the banks are still using the old bank rate (1500LPB = 1USD).
This means that you shouldn't withdraw from an ATM because you'd be losing nearly 18 times the original value, but you need to exchange your € or dollars in the black market, where the current rate is around 27000LBP.
How to exchange money in the black market of Beirut
Basically, the black market for exchanging money is anywhere but the banks, and that includes that ordinary money exchange offices.
You can find exchange offices all over the city, but the best place to exchange is in Hamra Street, where you'll find at least 10 of them.
For more information on traveling in Beirut during the crisis, check my Lebanon travel guide.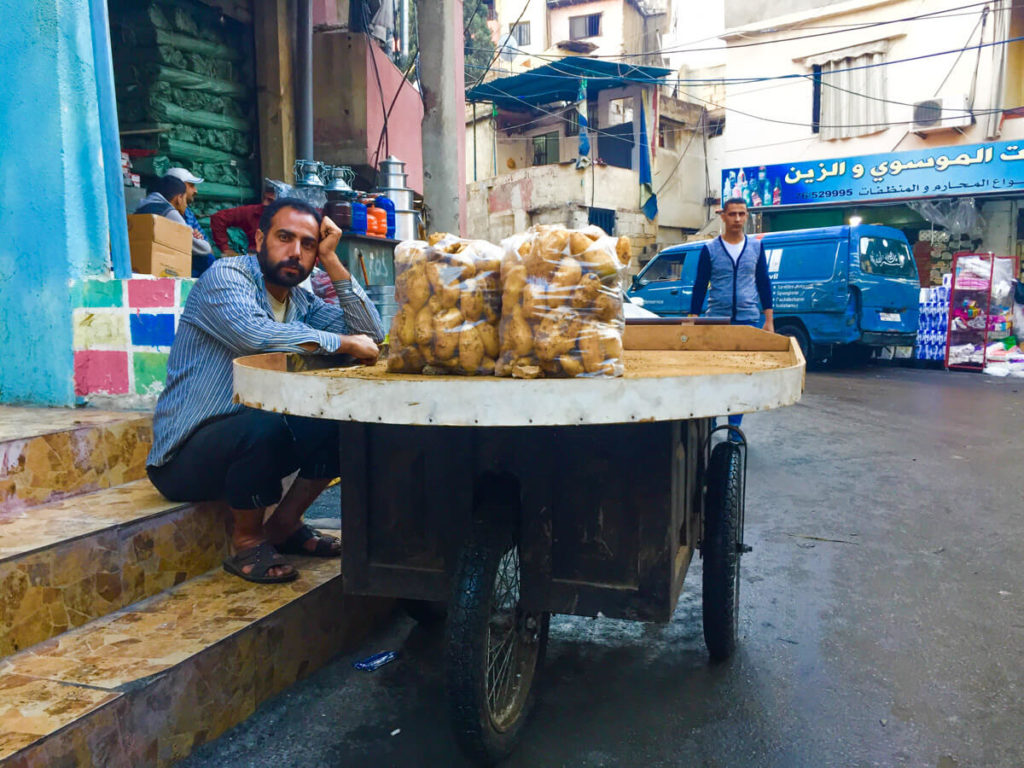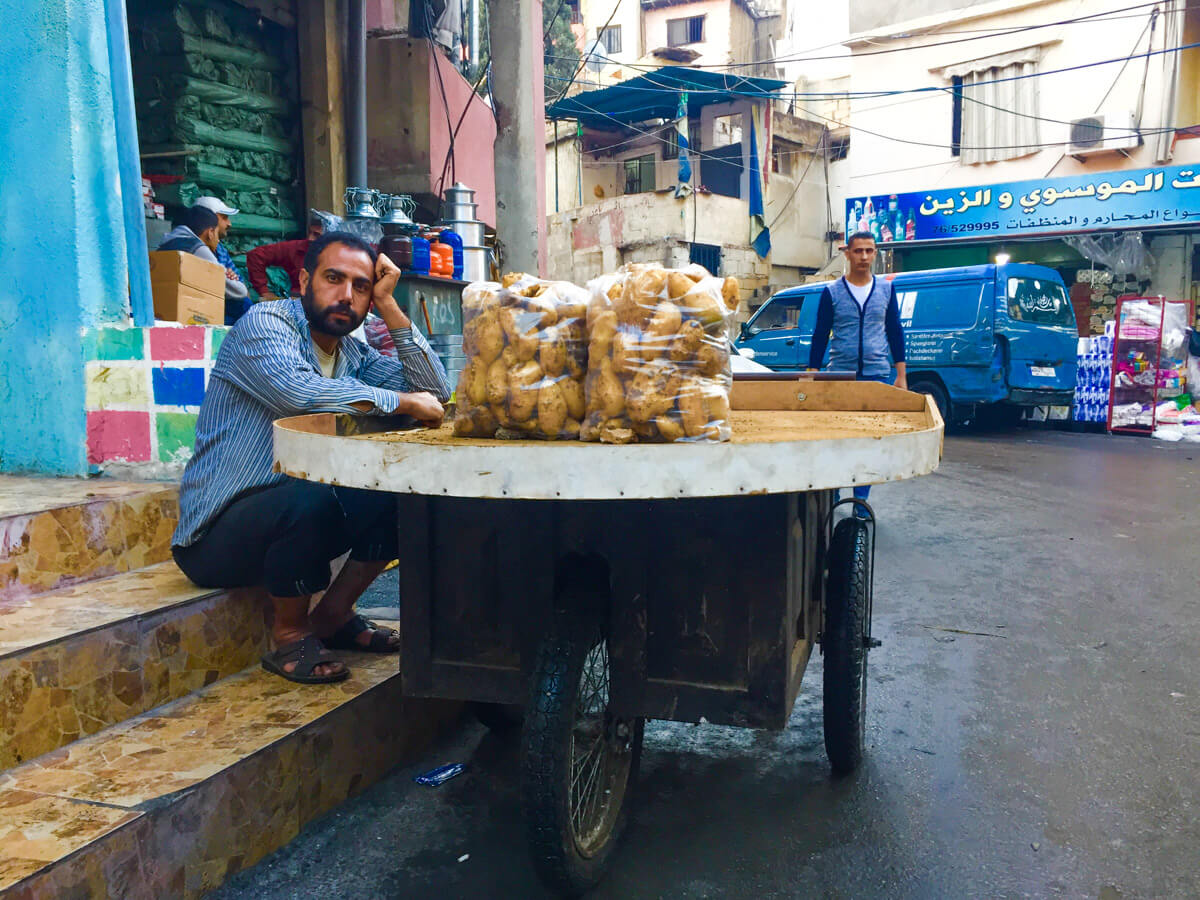 Where to stay in Beirut
Backpacker Hostel – Hamra Urban Gardens – A sister hotel of Saifi Urban Garden, this hostel is located in the main Hamra Street. It offers both suite and dorm rooms with a seasonal outdoor pool and bar.
Budget Hotel – Embassy Hotel – This is, practically, the only budget hotel in town. The rooms and bathroom are a bit old but, for this price, you are not likely to find anything better. However, it is in a very good location, right at the heart of Hamra, one of the coolest areas in the city.

Check on Booking.com
Mid-range Hotel – O Monot Boutique – Strategically located at the heart of Beirut, this property was highly recommended by many because of their amazing facilities especially their rooftop bar with a panoramic view of Beirut.

Check on Booking.com
Top-end Hotel – Radisson Blu Hotel – If you are looking for a comfortable place which has a delightful design, a good restaurant and other various facilities, this 5-star hotel is a perfect choice. Located in Dunes shopping center and 5-minute walk away from the beach.

Check on Booking.com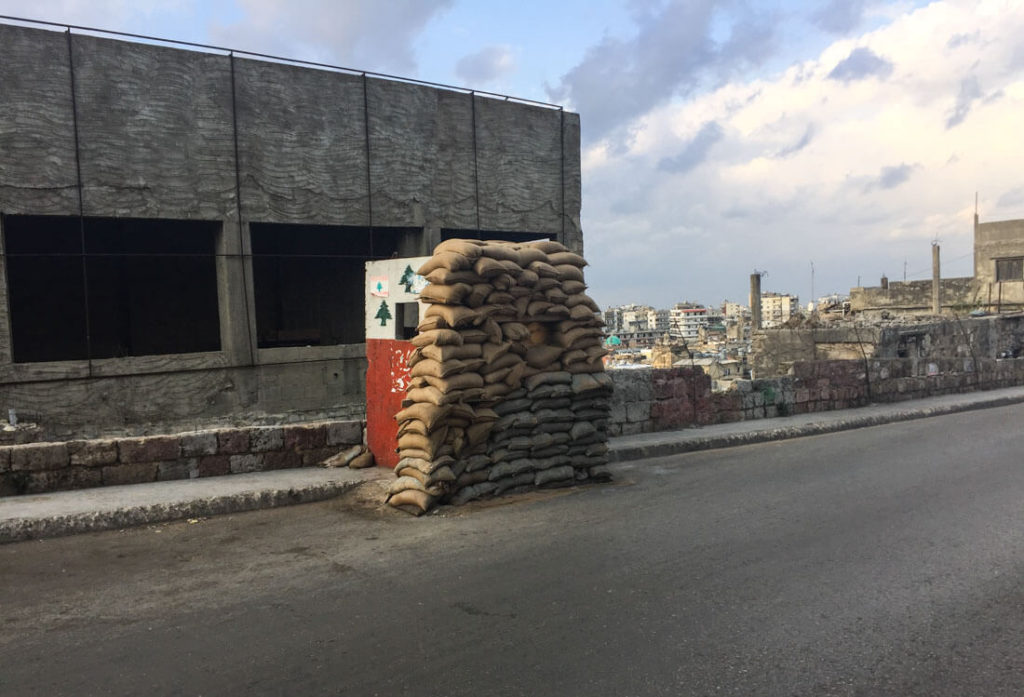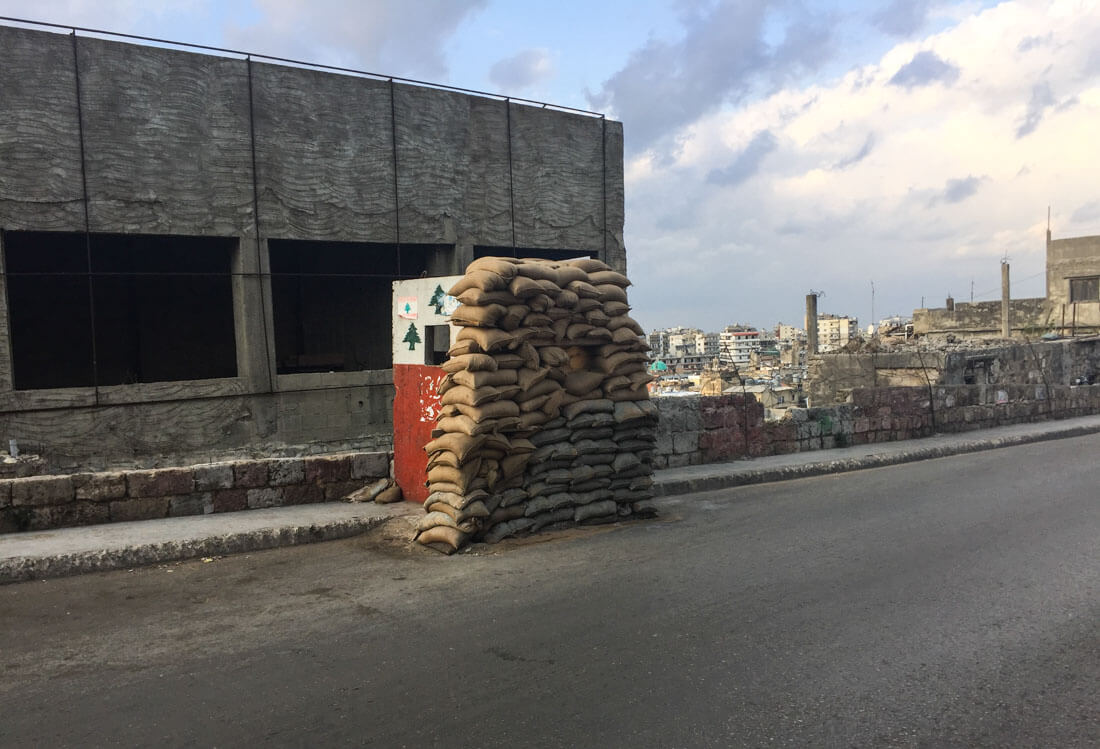 How to move around Beirut
How to get from the airport to the city center
There's no public transportation for going from the airport to the center of Beirut.
If you want to avoid negotiating with drivers, I suggest you book a taxi ahead through this link.
Otherwise, taxis typically charge up to 20USD for going anywhere within the city. If they see you are a foreigner, however, the starting price is around 40USD but you can easily bargain it down.
Additionally, the airport is located pretty much in the city itself so, if there is no minibus, on the ground level, after the airport's parking, continue walking towards the city center and, once on the main road, after 500m, you'll find plenty of local minibusses.
How to move around Beirut
Service
There are minivans driving around the city but alternatively, locals have a system called service, which is basically a shared taxi service. Basically, when you stop a taxi in the middle of the street, say service and, on the way, he will be picking up other passengers. A single, short ride costs 25,000LBP.
Taxi
Uber is highly available in Lebanon, so are regular, ordinary taxis.
How to get out of Beirut
Cola Station – Cola is the largest bus station in Beirut, with plenty of buses going in all directions, especially to the south. However, it is a bit away from downtown and a bit limited when it comes to northern cities, even though you can find plenty of buses going to the Baalbek region and Tripoli.
Charles Helou – For northern cities, this bus station is way more convenient, as it has more choices plus it is located very close to both downtown and Gemmayzeh, where most tourists stay. However, for going to the south of Lebanon, to places like Tyr or Sayda, you should definitely depart from Cola Station. This is also the station where shared taxis to Syria depart from.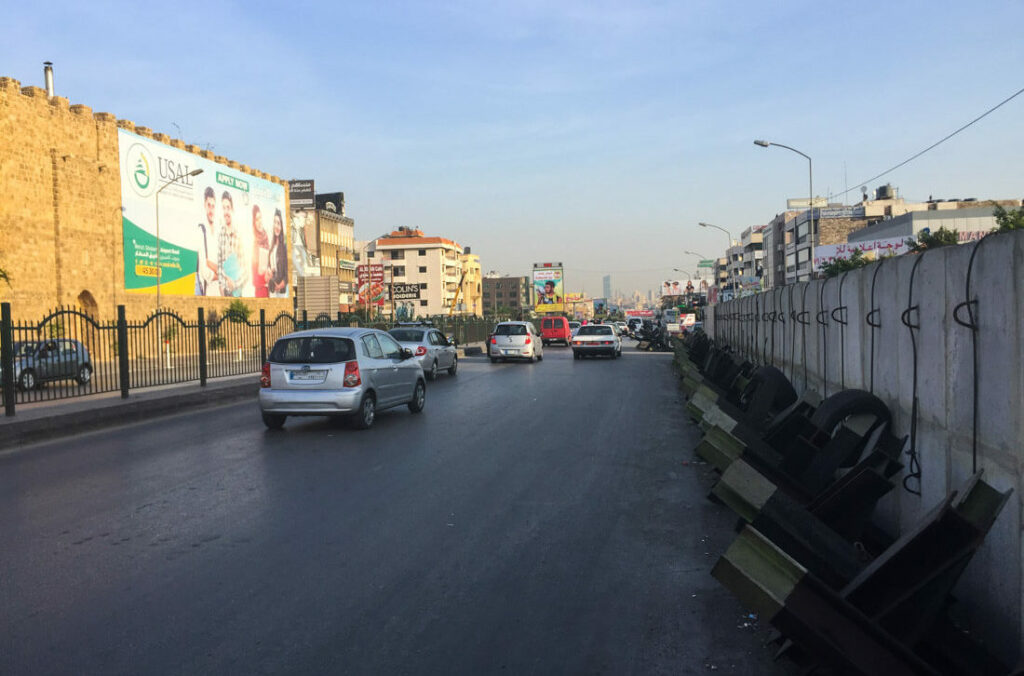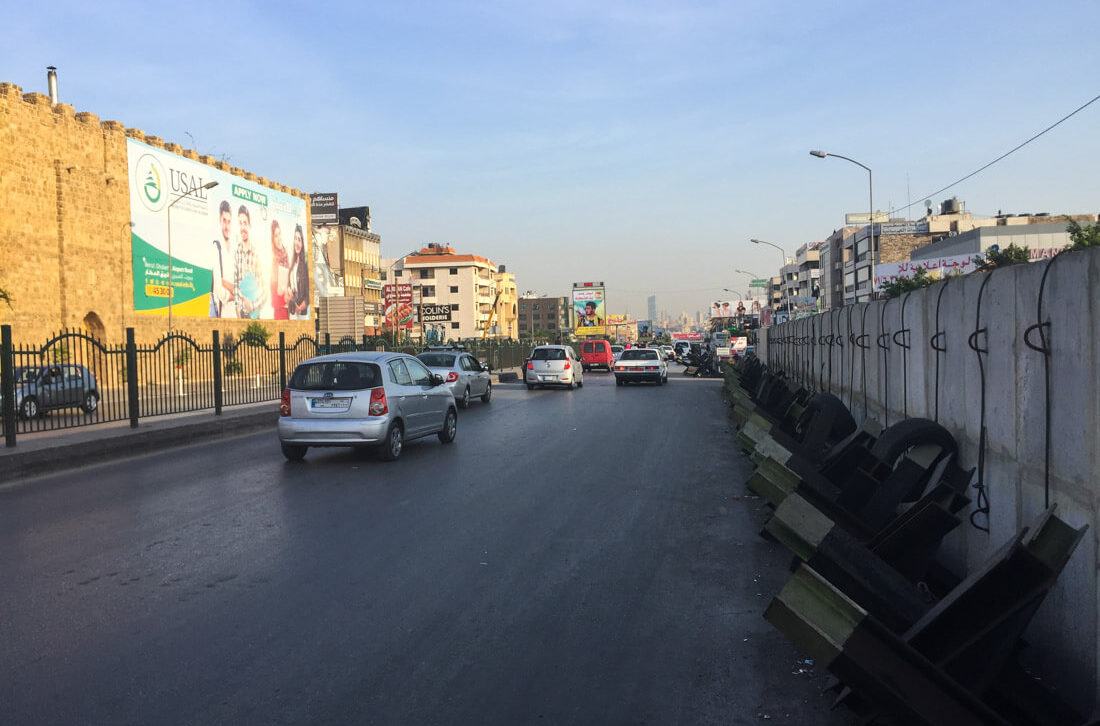 My favorite places to eat in Beirut
Budget local eatery – Restaurant Le Chef – Always frequented by both local workers and businessmen, the restaurant Le Chef serves a large variety of local home-made dishes that changes every day. If available, you must try syadye, a rice-based dish with fish and almonds.
Nice Lebanese restaurant – Bayt em Nazih – On the second floor of Hamra Urban Gardens, there's an excellent Lebanese restaurant which is always packed.
Nice Lebanese restaurant – T Marbouta – Similar to Em-Nazih but serving a larger variety of mezza and more of a restaurant than a café with music. You must try kibbeh mouloukyeh, fried meat with pomegranate.
Best place for traditional breakfast – El Soussi – Very authentic eatery with a real local vibe where to have the best hummus for breakfast.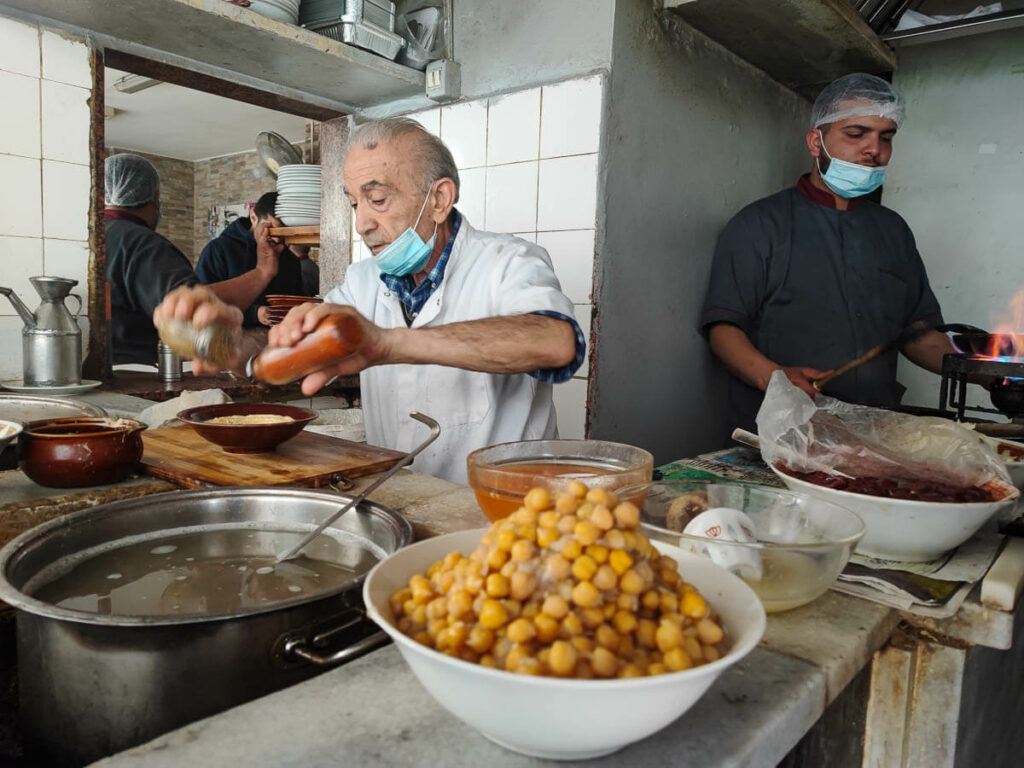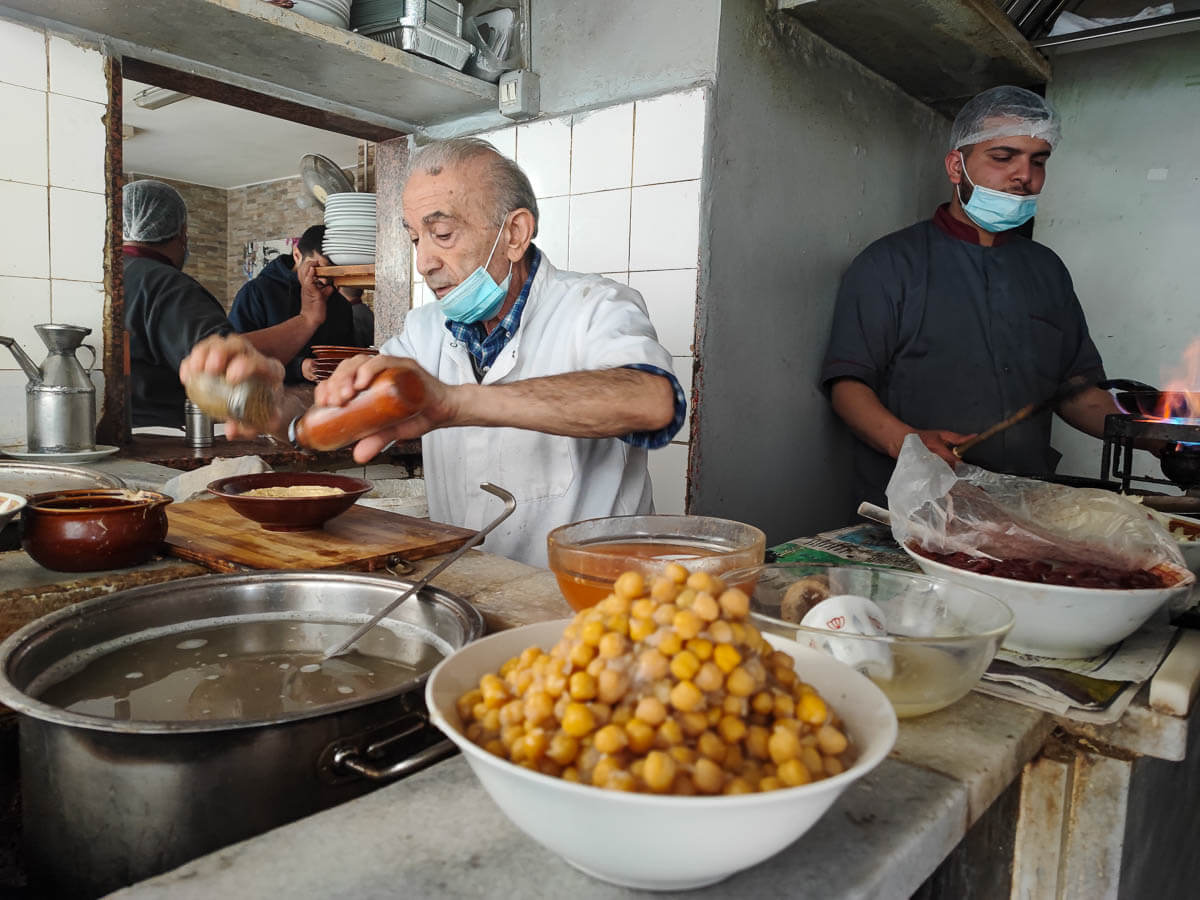 Things to do in Beirut
Beirut is a city where monuments and tourist sites as such barely exist.
Instead, people travel to Beirut to enjoy its culture and history, by walking around its dozens of different neighborhoods, admiring the war-destroyed buildings, eating and savoring the awesome, social local life.
Map of the things to do in Beirut
Click here to see the interactive map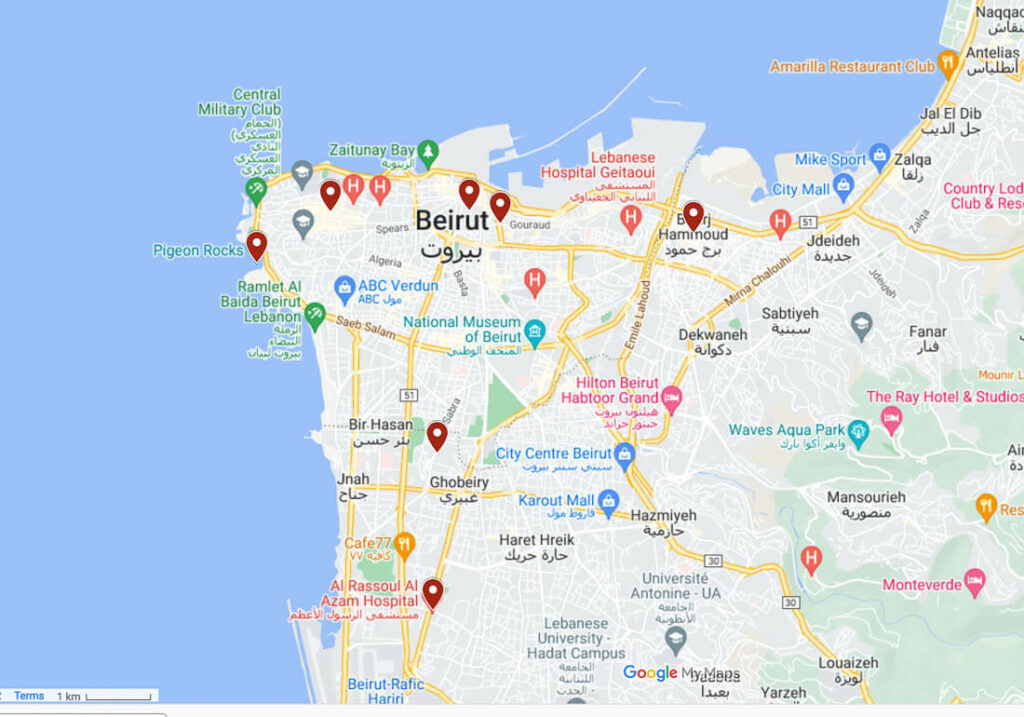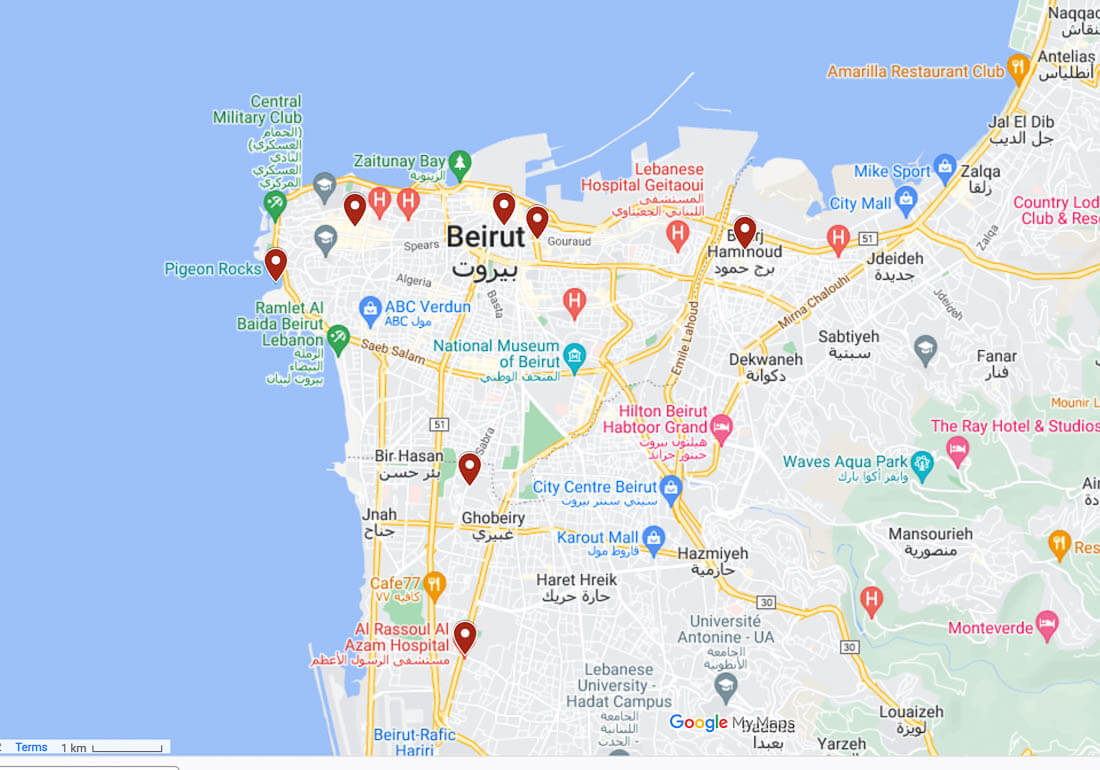 Gemmayzeh
When you are wandering the streets of Gemmayzeh, it's hard to remember that you are actually in the heart of the most turbulent region in the world.
With an endless number of bars, pubs, cafés and restaurants, Gemmayzeh is a Christian, trendy and sort of bohemian neighborhood, filled with narrow alleys, colonial buildings from the French era, and art galleries.
This is, perhaps, the most Westernized area in the entire Middle East (outside of Israel) and one of the highlights for anyone traveling to Beirut.
Unfortunately, this was also the most affected area by the port explosion and it hasn't recovered since then.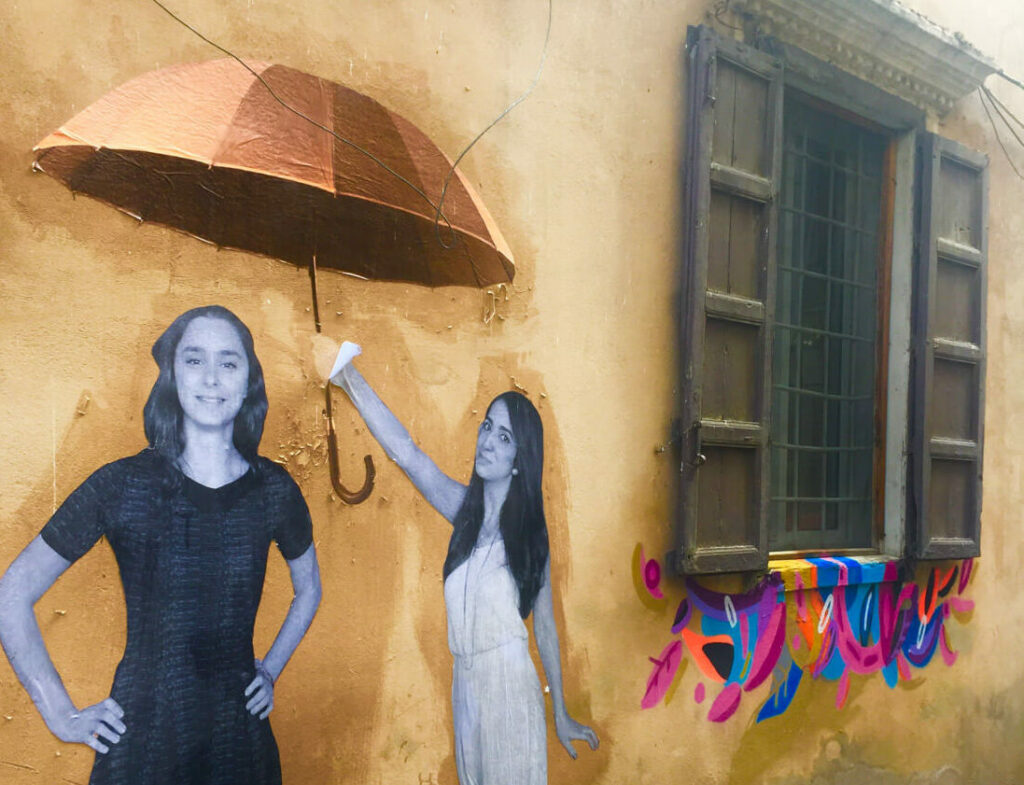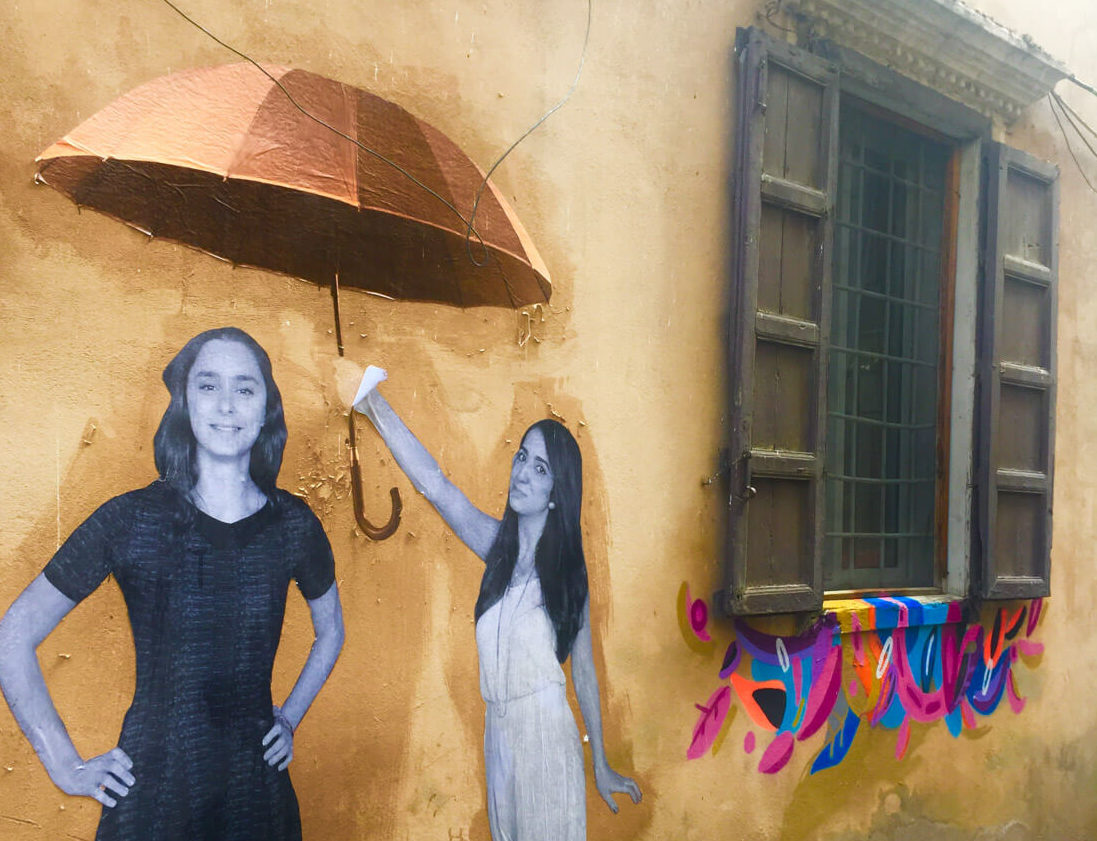 Pigeon Rocks
If you want to forget that you are in a big city, I definitely recommend going to the Pigeon Rocks, which are the only natural beauty in Beirut.
The Pigeon Rocks are two rock arches situated next to a cliff from where you get amazing sunsets and views of the ocean.
It's a place where families and people from all social classes like to spend the weekend.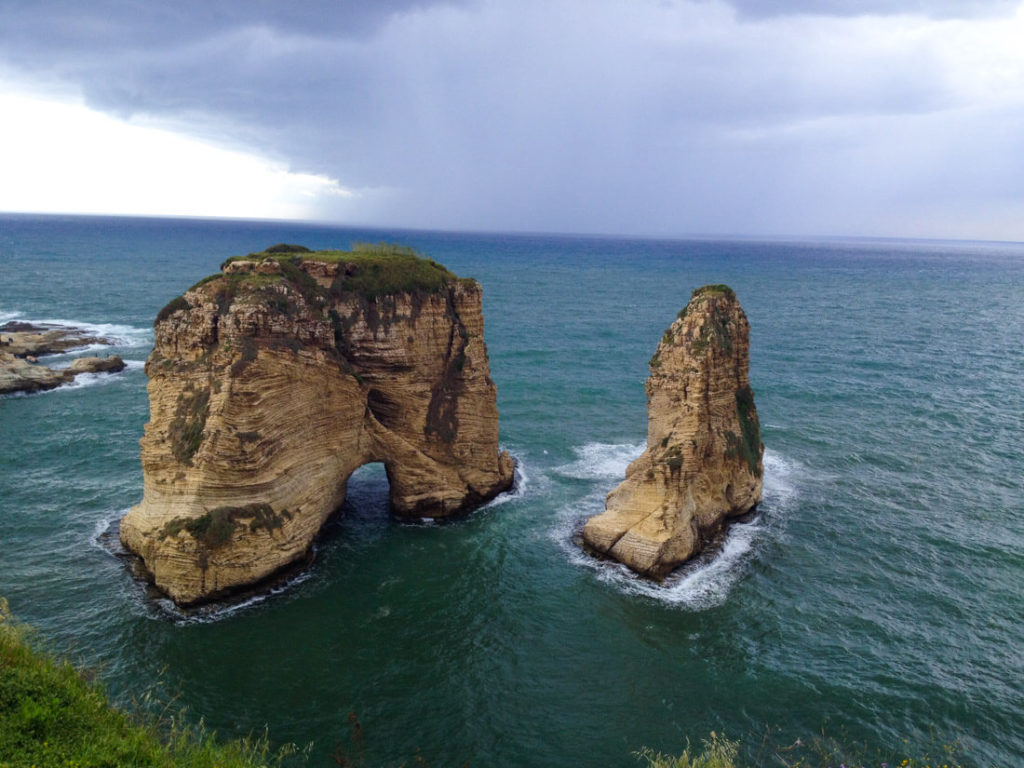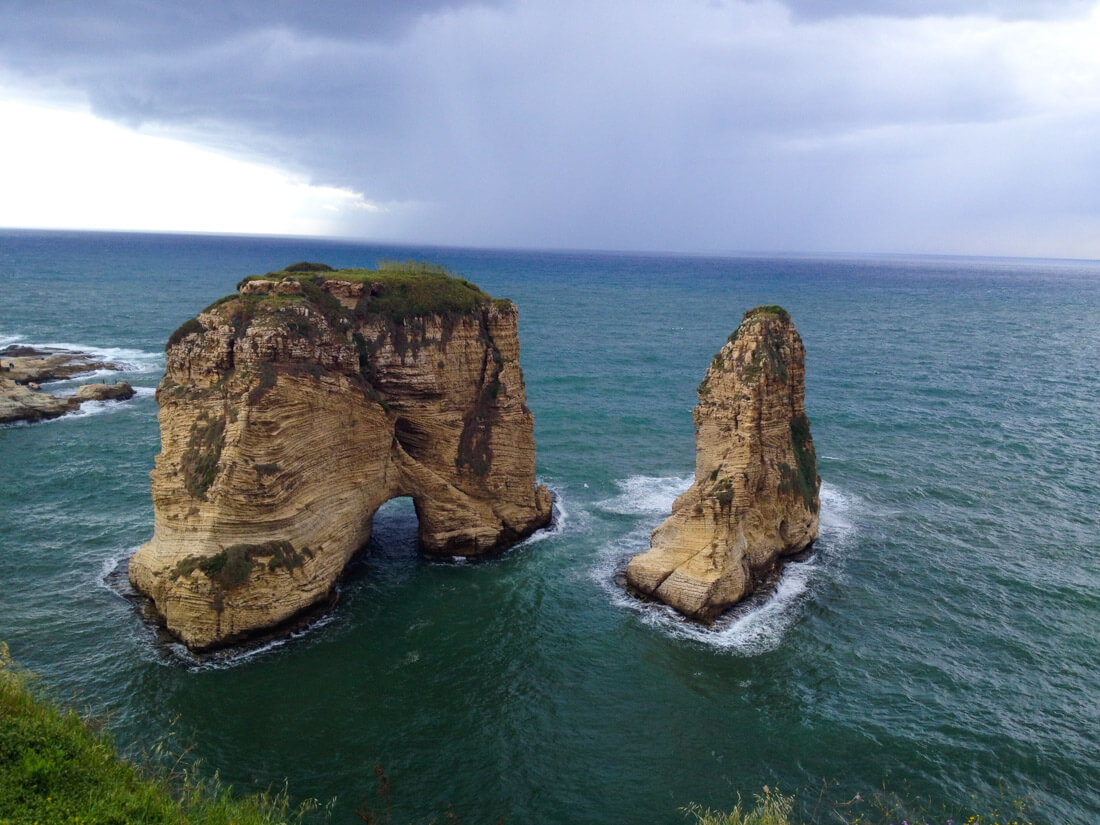 Hamra
The history books say that, during the Lebanese Civil War, Hamra was the center of intellectual activity, as it was full of theaters and other cultural institutions.
Today, Hamra holds the most prestigious university in the Middle East, the American University of Beirut, and, even though this area is not as cool and trendy as Gemmayzeh, there's a friendly student vibe strolling the streets and drinking at the several bars and cafés.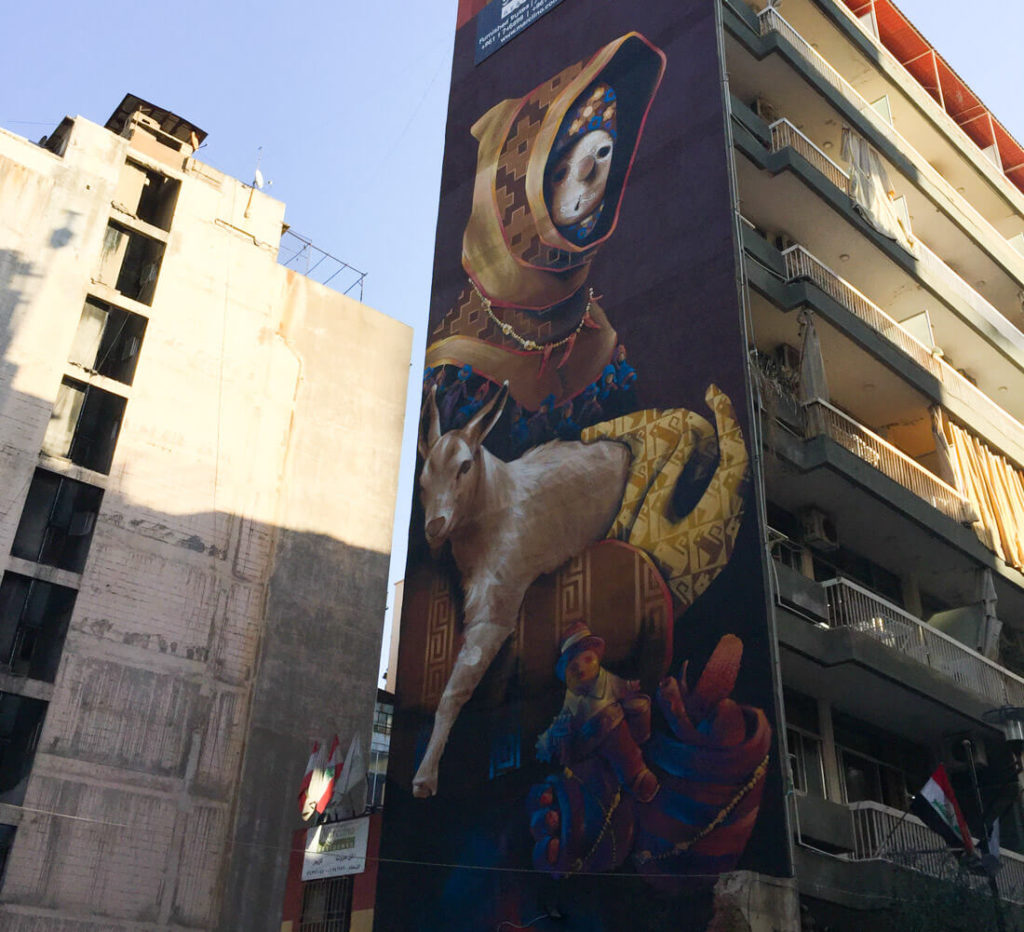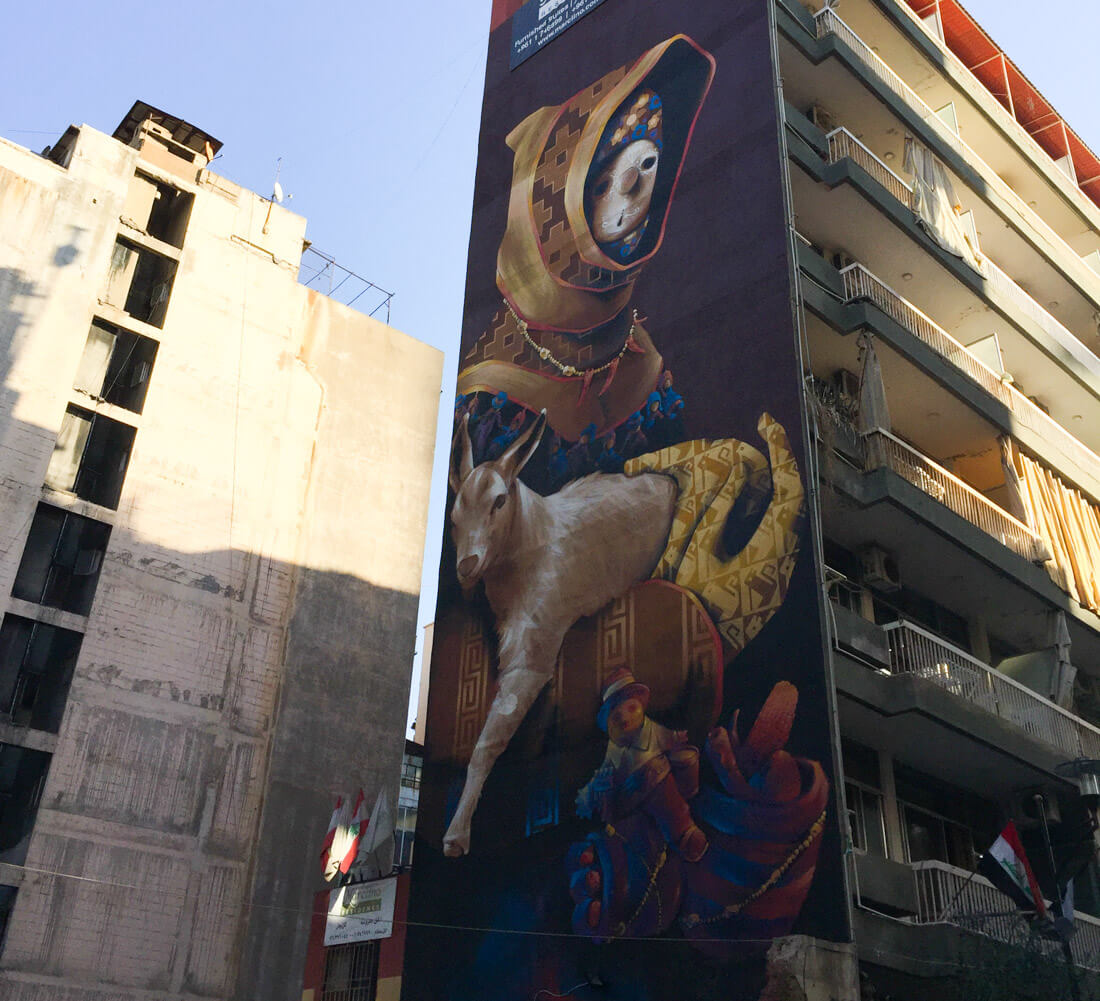 Downtown
Before the Civil War, Downtown Beirut was often called the Paris of the Middle East.
After the war, the district had to be completely rebuilt and, today, this is the most pedestrianized and cleanest area in the city.
It's full of glamorous boutiques such as Louis Vuitton and the top fine-dining restaurants. Nevertheless, the locals claim that, since the reconstruction, this part of the city has lost its soul and you are likely to find more tourists from the Persian Gulf than local Lebanese.
However, due to the recent violent protests, most downtown area is today inaccessible, since that's where the Lebanese elite lives in.
Read: How to travel to Saudi Arabia (How to get a tourist visa + Tips)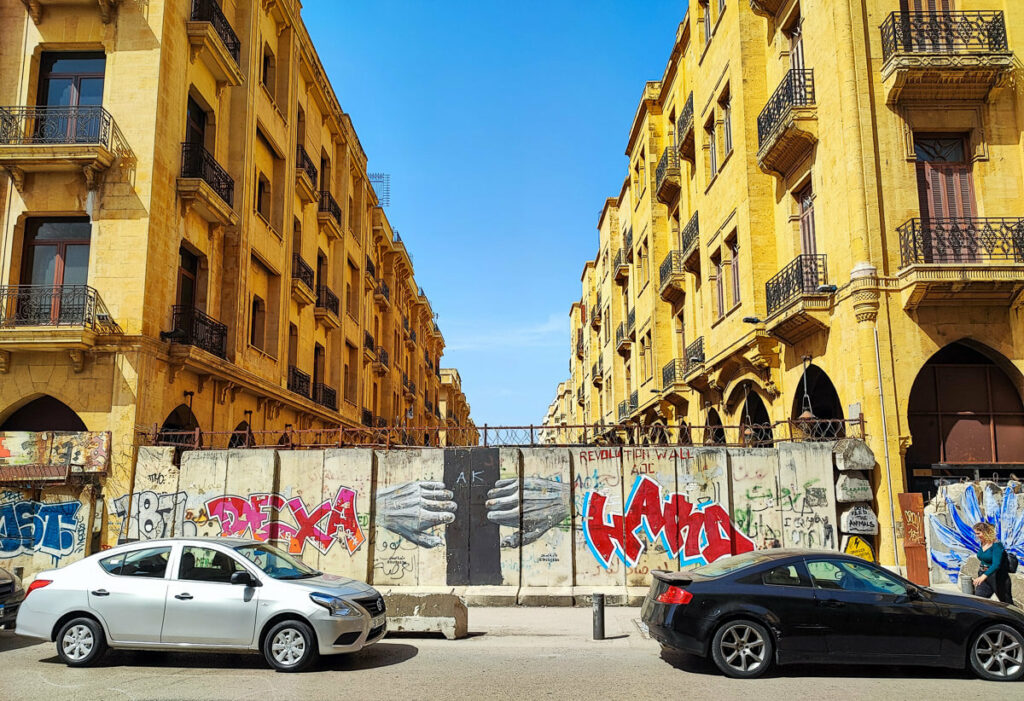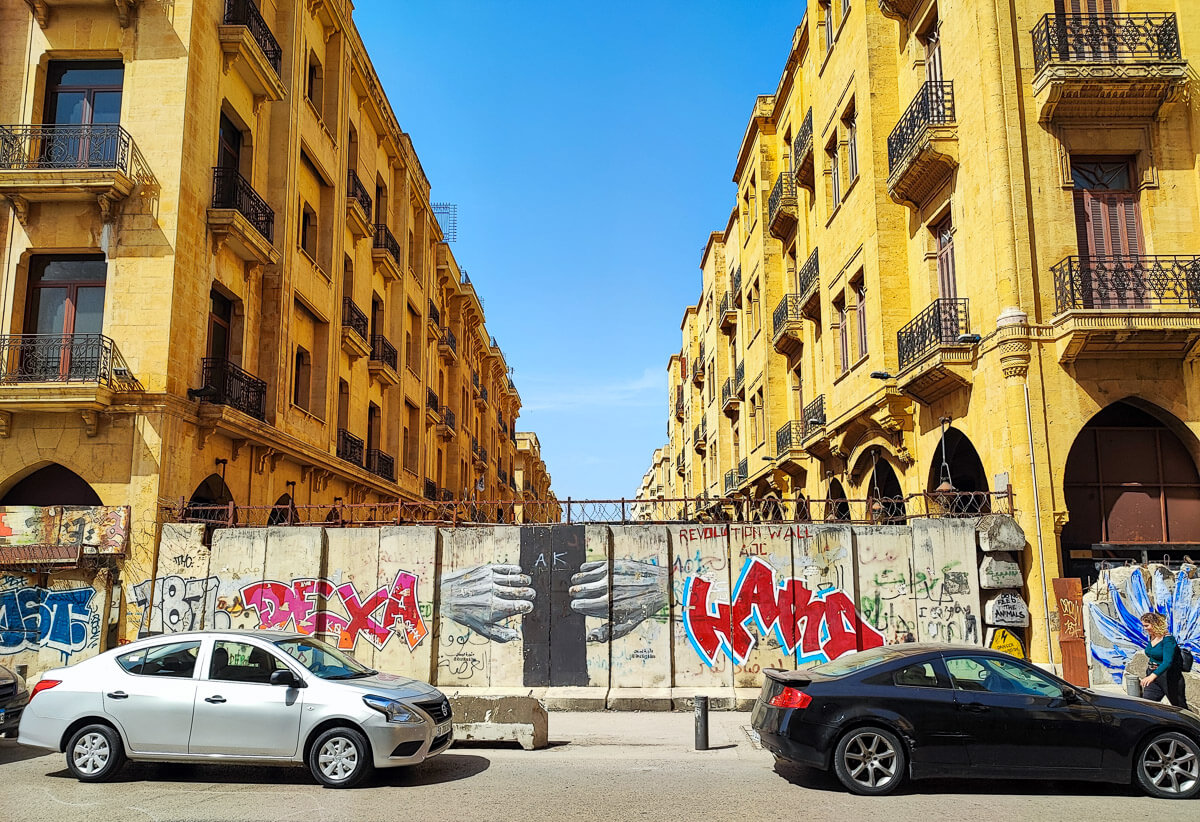 The blend of Islam and Christianity
Shia Muslims, Sunni Muslims, Maronite Catholics, Druze, Greek Orthodox, Melkite Catholics, Armenian Apostolic, and Protestants, just to name a few.
The religious diversity is very rich and one can easily realize about it, as there are mosques and churches for each and every branch of the two major religions in the country.
This diversity was one of the main triggers of the Civil War but, nowadays, all religions live in peace and harmony and, sometimes, both mosques and churches are built side by side, like in the picture below.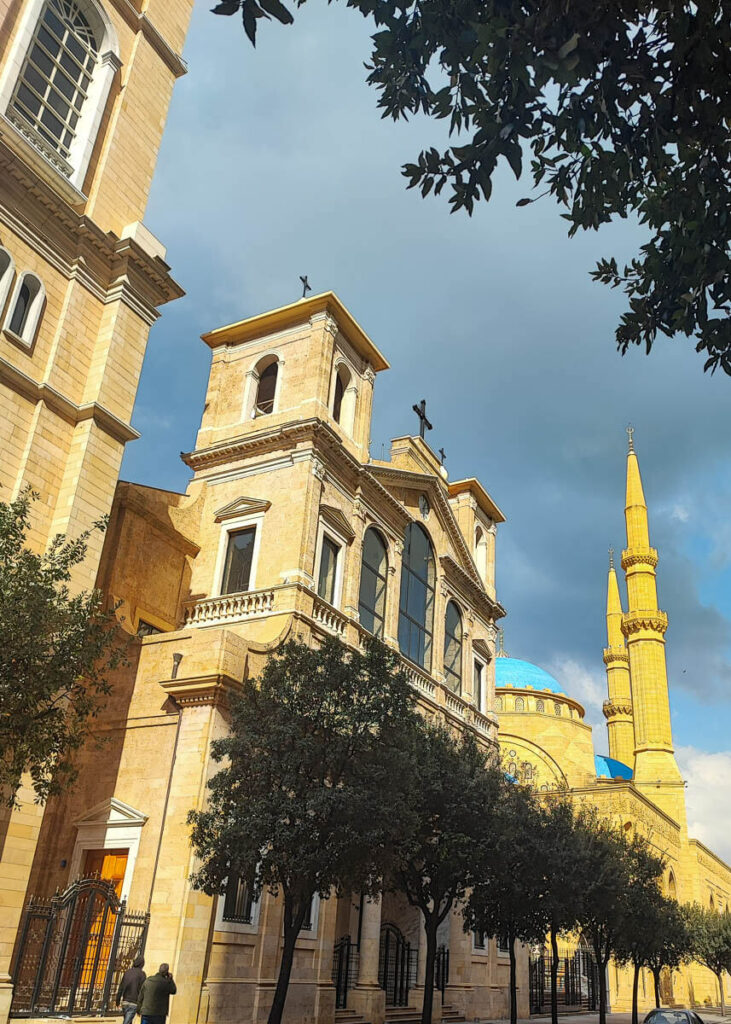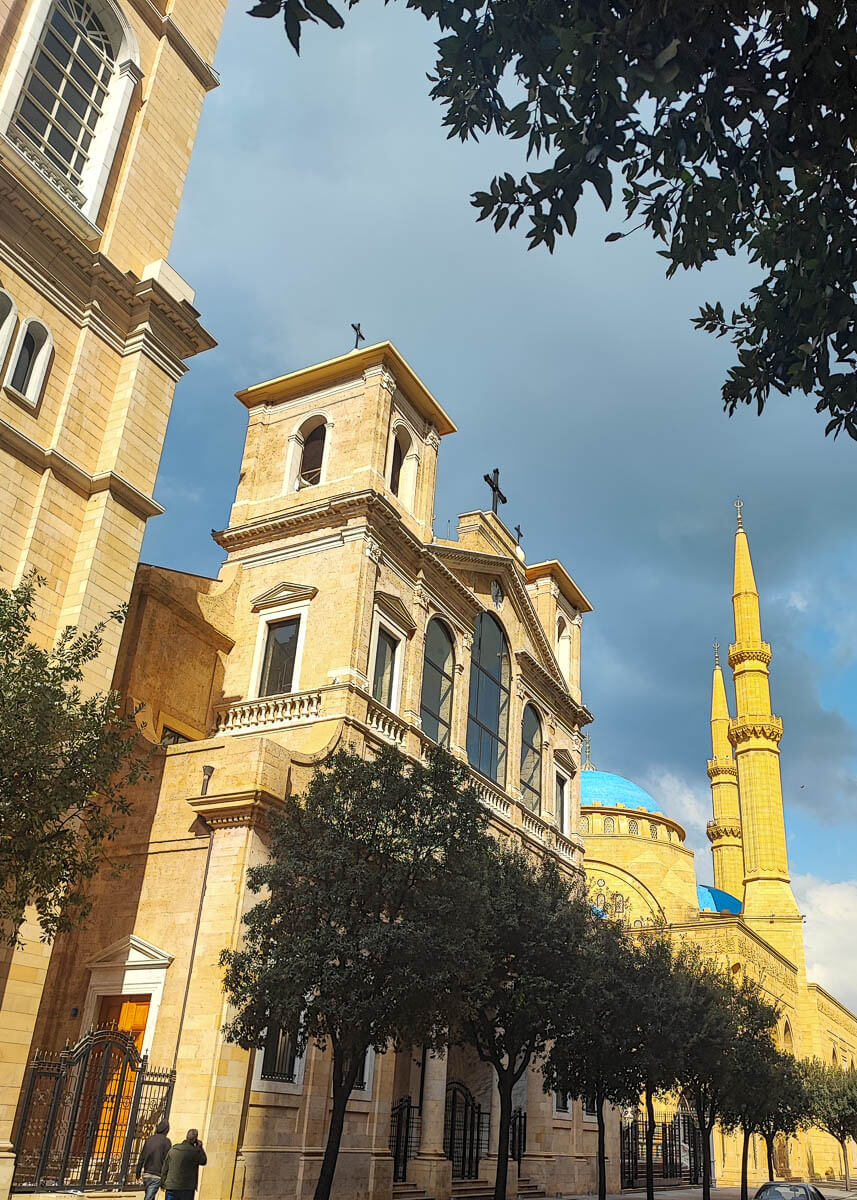 Bourj Hammoud
Welcome to Little Armenia!
Bourj Hammoud is a neighborhood founded by survivors of the Armenian Genocide in 1915. If you want to get a glimpse of Armenian culture and eat at tasty Armenian restaurants and bakeries, I highly recommend spending half a day in this area.
There is plenty of pretty cool graffiti claiming Turkey is the only party guilty of the genocide and also, this is sort of a commercial hub, where you'll find the best deals on clothes and electronics in the city. If you don't know what to do in Beirut on your second or third day, this is a cool place to go.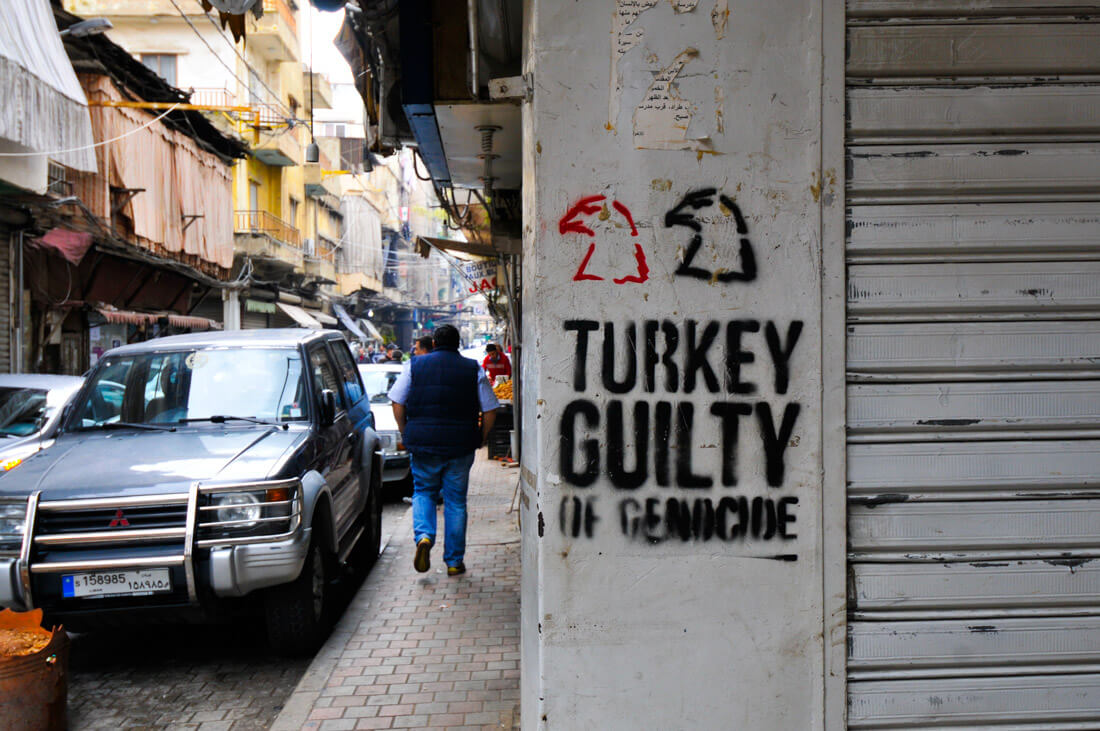 The legacy of war
The Civil War in Lebanon ended more than 25 years ago, in 1990, but still, Beirut has loads of destroyed buildings that haven't been restored yet. Once, I asked a Lebanese:
Me: Why aren't you restoring all these buildings?
The Lebanese: Actually, we kind of like them. It's retro and gives an underground touch to the city
Me: And what about all the people that were affected by the war? In my country, we removed everything that reminded us of our Civil War. People didn't want to see those things anymore
The Lebanese: I don't know, we find them pretty cool
Destroyed buildings, as well as inhabited buildings with bullet holes can still be found all over the city and, for me, this is the most interesting thing to do in Beirut.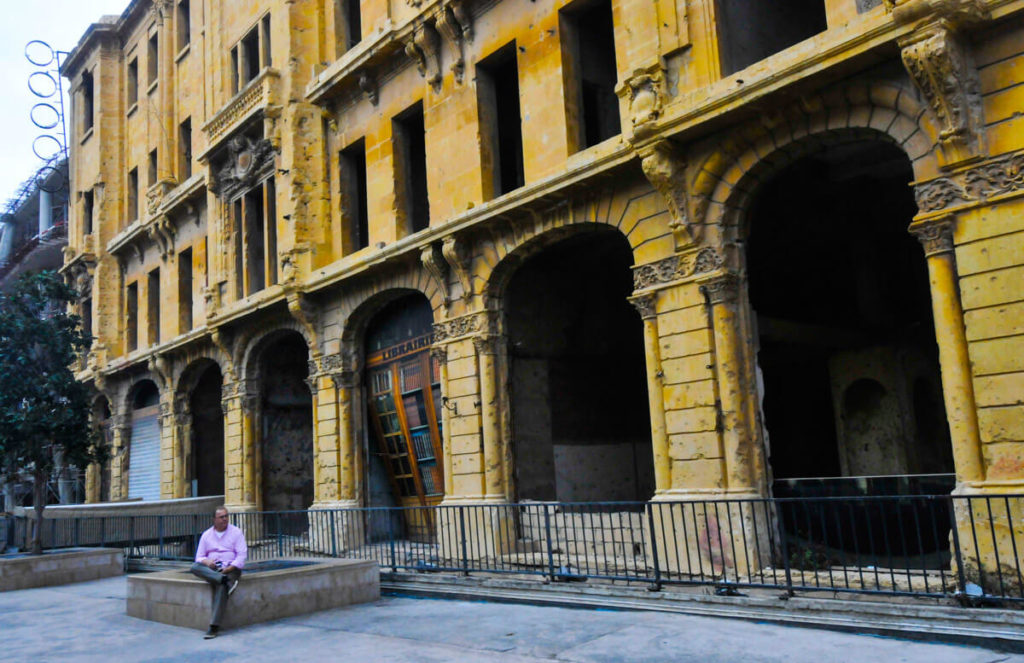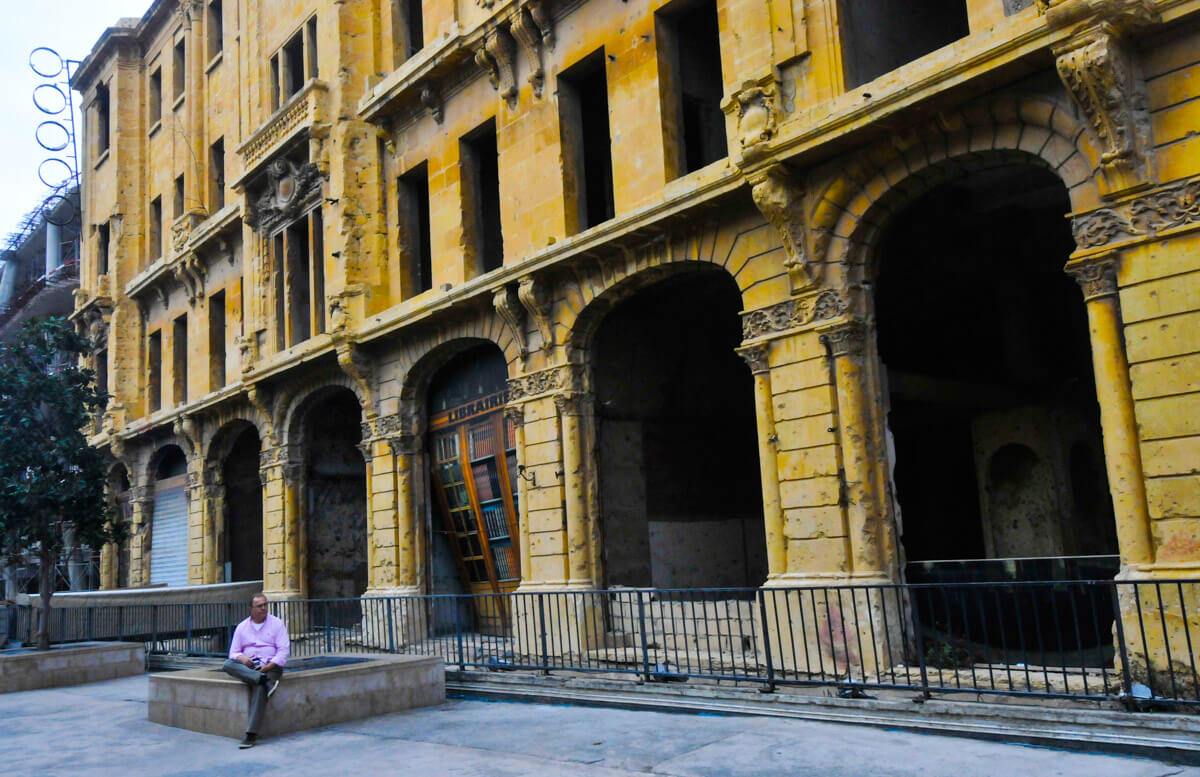 Shatila
Shatila is one of the oldest Palestinian refugee camps outside of Palestine.
It was set up in 1949 and today, it's attached to the city of Beirut. Shatila caught the eyes of the outside world because, during the Civil War in Lebanon, a Christian militia was responsible for one of the bloodiest massacres ever, as they killed around 3,500 civilians, mostly Suni Palestinians and Shia Lebanese. Today, the population has doubled due to the massive flux of Syrian refugees.
If you decide to visit Shatila, you need to bear in mind that this is neither a tourist attraction nor a place to have fun but, one goes there to learn and empathize with the local Palestinians. In Lebanon, around 10% of the population are Palestinians, 56% of them are unemployed and many of them survive on less than $7 a day.
Note: If you want to live a real and unconventional experience, in Shatila, there is a guest house where you can even do some volunteer work if you want. Prices are lower than anywhere else in Beirut and are also likely to meet plenty of very interesting people. For further details, visit their website.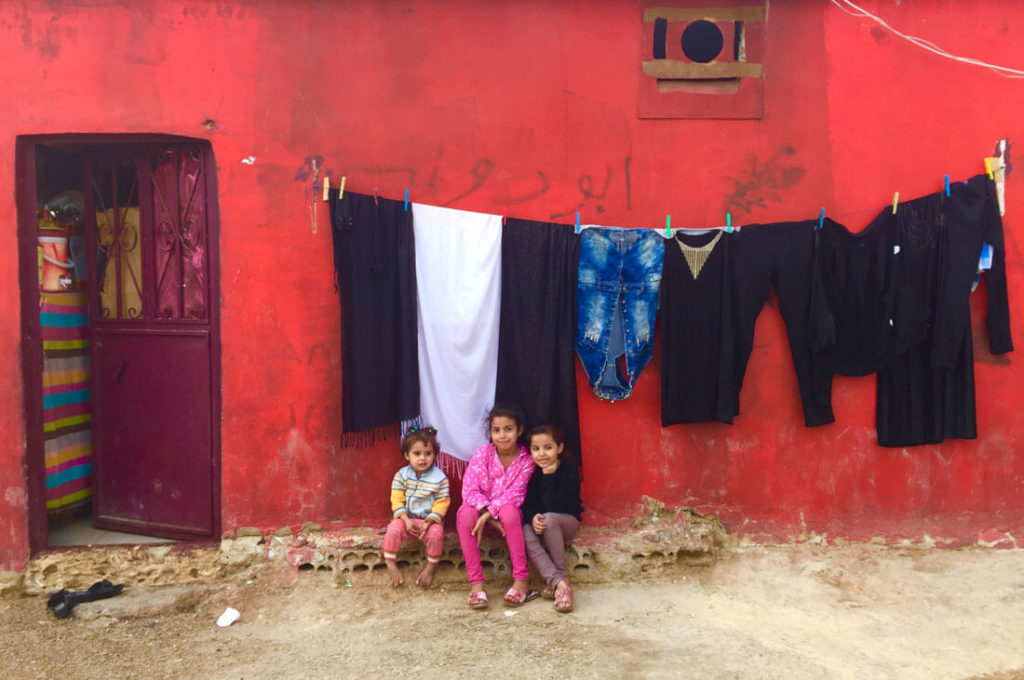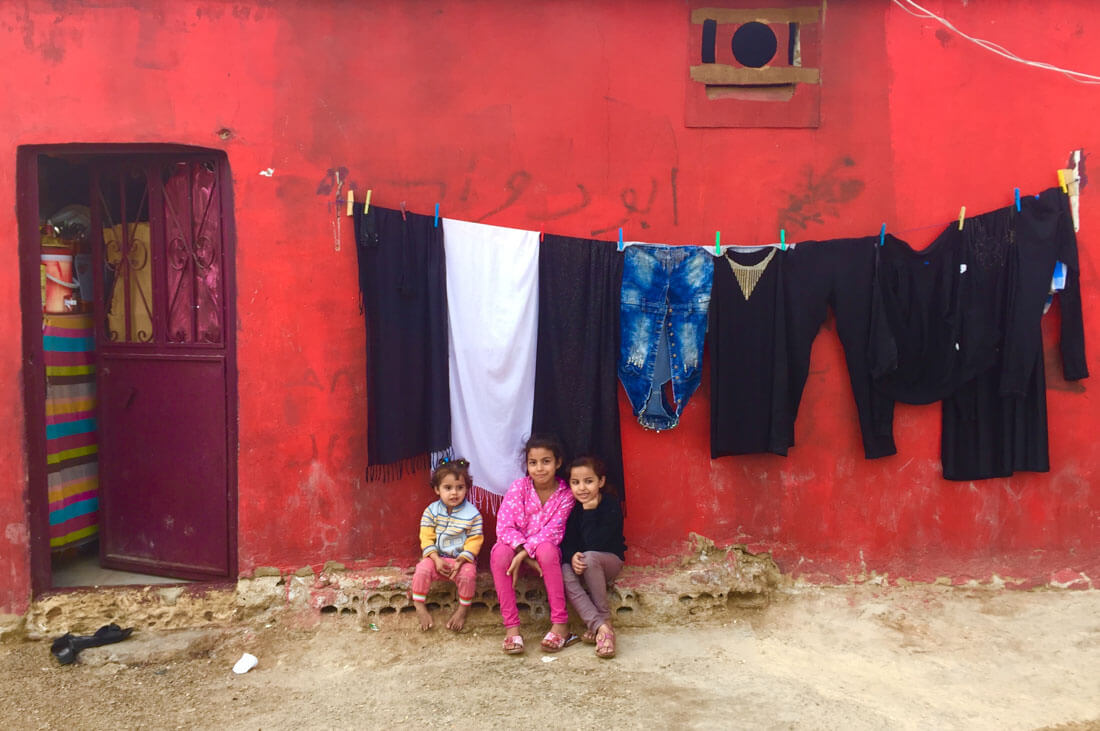 Bourj al-Barajneh
This is one of the most fucked up places (sorry for the expression) in Beirut and you are likely to be called crazy by the locals if they ever find out that you hanged in this area. You should only go if you are interested in local politics.
Bourj al-Barajneh is where the last suicide bombings happened, as this is a Hezbollah area targeted by ISIS. The heart of the neighborhood is a real ghetto, as it's composed of extremely narrow alleys with electric cables hanging from everywhere. Due to the terrorist threat, there are endless checkpoints.
This is quite a sensitive area which it's possible to visit, but taking pictures is strictly forbidden. If you get caught, you can be in real trouble, like it happened to me when a group of locals saw me taking a photo with my phone, so they retained for nearly 2 hours.
Also, bear in mind that the locals don't understand why a foreigner would even want to visit the area for tourism purposes so, for them, any foreigner could potentially be a spy. If you go there, it's 100% recommended to go with a local.
In order to better understand the situation in the Hezbollah areas, you should read some of my previous articles:
The day I was accused of being an Islamic State Spy
Is it safe to travel to Lebanon?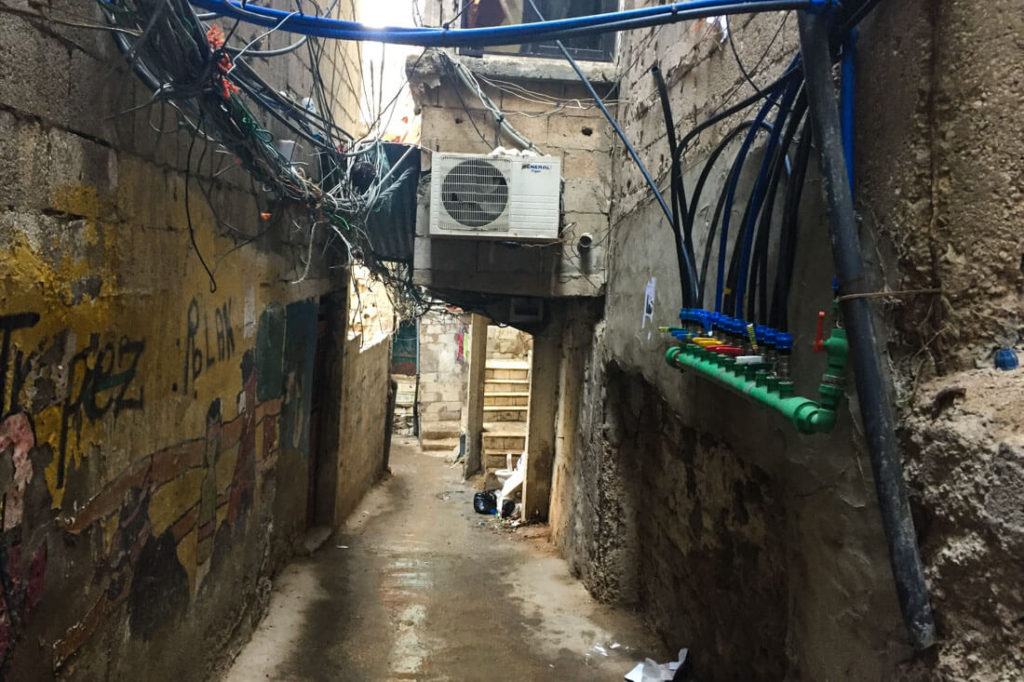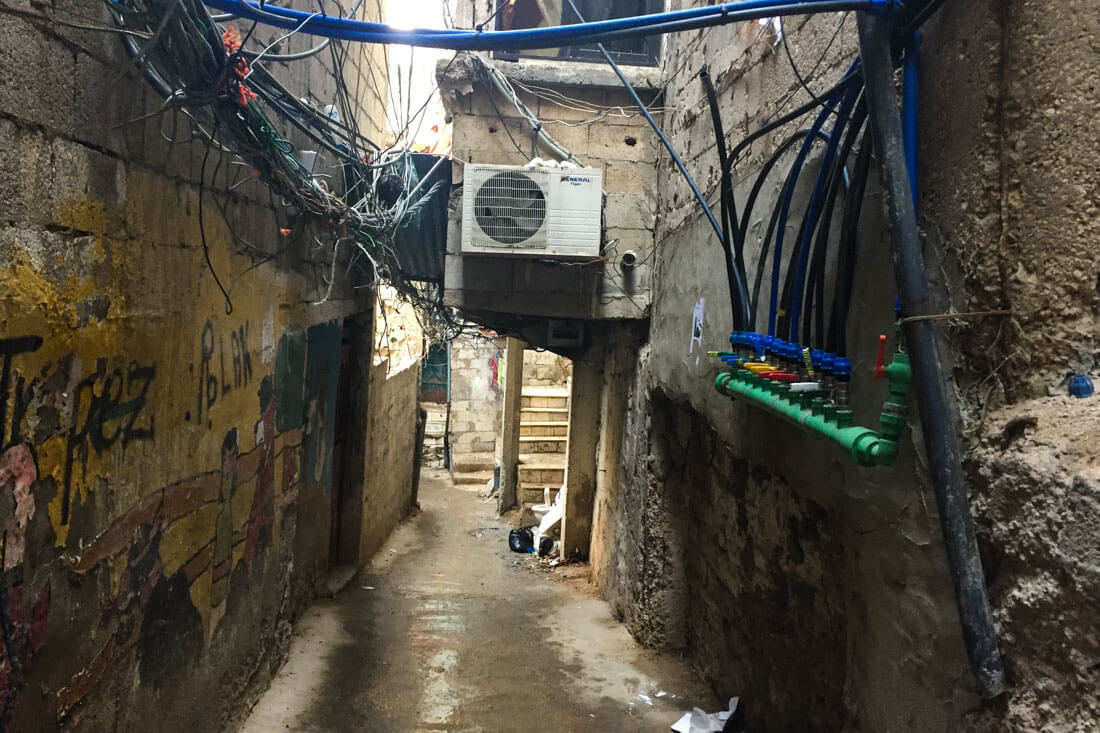 More information for visiting Beirut
Remember to get travel insurance for Beirut
I strongly recommend IATI Insurance as it has COVID-19 coverage + 5% discount
Get your 5% discount if purchasing via this link
All guides and articles for traveling in Lebanon destination
Check more city guides