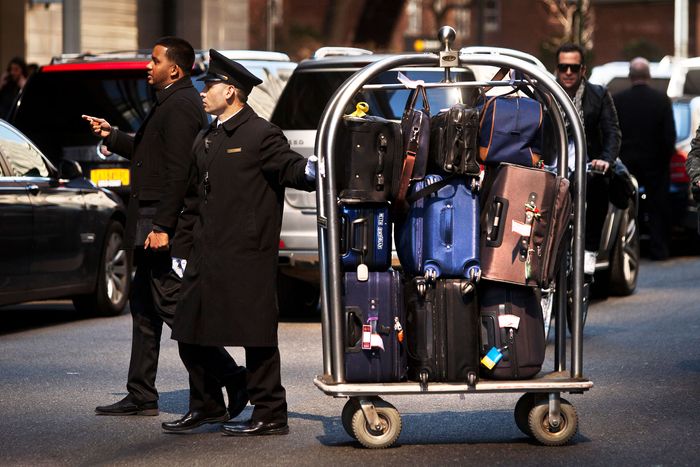 Photo: Victor J. Blue/Bloomberg via Getty Images
In late April, the commercial real-estate firm CBRE released a report with some alarming data: New York City's hotels, at their current pace, would claw back to pre-pandemic levels of occupancy by 2025. And this was better than previously expected: The growing vaccination clip and new COVID-19 relief, forecasters hoped, would give the battered hospitality industry the boost it so desperately needed after its worst year on record.
This was a remarkable fall for what was the city's seventh-largest job creator just two years ago. Before the pandemic, hotels employed thousands of New Yorkers; now, it's a furloughed fraction.
With Mayor Bill de Blasio declaring a summer unlike any other, life is returning to the streets with equal measures of joy and caution. And so, too, to hotels. While less than 37 million visitors are expected in New York City this year — about half of the record-breaking 66.6 million seen in 2019 — 78 new hotels are set to open, one of the biggest showings in recent years. And hotel-room occupancy is slowly ticking up, now hovering just above 50 percent, according to data firm STR — yet it's still plenty behind the nearly 90 percent reached before the pandemic.
But what has it been like actually running a hotel right now? And where is this industry even going? I hosted a Zoom roundtable with several of the city's leading hoteliers on a recent morning to find out.
Rewind to spring 2020. Businesses shuttered. Travel at a standstill. Close to 90 percent of hotel workers unemployed. How were you feeling?
Vijay Dandapani, CEO of the Hotel Association of New York City: I mean, I can obviously respond to the aggregate for the industry as a whole. We saw an 85 percent drop in revenue from March onwards, because of the "shelter in place" order. The layoffs that immediately followed were somewhere between 45,000 and 55,000 … It was a pretty dark period. I think the parallels with other downturns — recessions, 9/11 — simply don't match up. Because in those cases, occupancies never dropped below 60 percent in the city.
Jay Stein, CEO of Dream Hotel Group: This was a million times worse. We had employees that got COVID, unfortunately, and I'm calling each one of them, and then the numbers started to get larger and larger as time went on. But we were just trying to decide, were we going to say good-bye to people, lay them off, and then expect them … was it going to be two months later, six months later, a year later, 15 months later, where we'd have to call them and say, "Hey, we'd like you to come back." And then someone would say, "Oh, I haven't heard from you for 15 months." So we really tried to stay in touch, not only with the employees that were working and struggling mightily, but the ones that were laid off.
Marlene Poynder, general manager of the Conrad Downtown: Initially for us, because our team got hit pretty hard with COVID as well, we just had skeleton staff and they were staying in-house. Anybody that didn't want to go home and could work basically stayed in the hotel for the first two months. And it became a very tight-knit group, mainly managers, who really just kept the hotel open. Like Jay, the majority of our staff are still out on furlough, and we keep in touch with them every month.
Jason Pomeranc, co-founder of SIXTY Hotels: Well, I mean, for us it's a little bit different, because as a tightly held company where we own all our hotels in New York, and one in Los Angeles, we kind of universally looked at it with one strategy: We weren't going to close anything and adapt as much as we could.
There were times where we would look at the daily reports and speak to GMs, and there were three, four people staying in any given hotel. And then there were these odd spikes of getting really busy all of a sudden; there were days last summer where we would have 70, 80 percent occupancy days out of nowhere. And that would last for a little while and it would go away. So it was very hard to prepare.
I think this is an impact that is permanently going to affect the way that we operate and treat hotels for a long time. And how people envision the financial security of hospitality versus other sectors of real estate.
Let's talk about that volatility. 2019 was a record year for tourism to New York City, and a boom time for hotel construction. Was this a bubble that was inevitably going to pop?
Stein: So, I'll pop in there. The perception of record highs did not match up with the industry's perception. Just because the number of people coming to the city and hotels were increasing, average rates of occupancy certainly have not been increasing significantly since 2008 … So I think that bubble already burst ten years ago. Before that, we would have phenomenal years, with two out of every ten years maybe soft since the mid-1980s. It's been a lot more difficult to make big money in the hotel business this last decade.
Pomeranc: I think Jay is very, very accurate. From 2005 to 2009, it seemed like there was endless growth — any empty parking lot would become a hotel, even in the outer boroughs. If you could get a hotel room open here, it was about as automatic a success as you can have. Before that, the hotel-room count was more or less the same as it was since the late 1960s, with an attrition of some older hotels converting into apartments. But then the 2000s really changed how the business worked. There was a lack of control mechanisms of the new supply for some time. So you had more volume and it was completely unparalleled in any other U.S. city, right?
I love the idea of growth and establishing new neighborhoods, but that kind of value basically killed RevPAR [revenue per available room, the industry indicator of profitability] growth for almost a decade. The only positive by-product for us that have been sticking it out for that long is maybe the contraction of rooms to other uses after this is all over. A little bit of a slowdown will let tourism catch up and the industry will get healthy again.
Speaking of a potential slowdown, the de Blasio administration has proposed a plan to require approval for every new hotel. Critics argue it's 'a $7 billion mistake'; labor unions say it's essential to stem the supply of non-union hotels. What do you think?
Stein: Yeah, look, I'll jump in. From a selfish point of view, I think any way that we can keep the room counts from increasing in this city is good for this industry. As Jason pointed out, how many rooms have come in? I think, I don't know, maybe 50,000 or 60,000 keys have been added from, probably, 1999 till now. The available rooms probably doubled, but I'm also someone that believes in competition and let the markets take care of themselves. But again, selfishly, I think if the city wanted to put some kind of mandate in there …
Dandapani: Well, I'll just say this. Everyone points out the supply. And what's still to come is 24,000 rooms. That's already in the supply. That's not going to be affected by a special [review]. So, I think Jason pointed out how difficult it is to do projects in other cities, take London or L.A. I mean, you just have to pull teeth to get anything. Now Paris is even more difficult. So, we're not suggesting that it should be made more difficult. It should be more thoughtful. And so, the supply increased by almost 100 percent between 2008 and now, and as Jay pointed out at the outset, we never got back 2005 RevPAR.
Pomeranc: I believe the free market should determine whether or not new hotels are needed in New York City. We already have very specific zoning ordinances and extensive community-board input into potential new development. If the mayor's plan is approved, the New York City hospitality industry will be controlled by a variety of special-interests groups, each with their own agendas, and we will displace billions of dollars in tax revenue the city desperately needs.
The recovery is on every New Yorker's mind right now, and the mayoral primary is only a month away. What else should the city and state be doing to get people back? 
Dandapani: They can start with restoring the sanitation budget. I used to walk right by this area on 51st and Park Avenue, and it was just unbelievable to comprehend what was going on. Trash was all around the city, even in the wealthier parts. And then safety, which cannot be overemphasized. When a tourist makes a decision to come to a place, the first thing they look to see is, "Will I be harassed? Will I be harmed?"
Pomeranc: I think you're spot-on. Your real problem is midtown, Times Square, and the Theater District. We're opening a new hotel there in the fall, so we've been acutely aware of how important Broadway is. So getting that open as quickly as possible with few restrictions is one of the biggest issues in driving traffic back to the city.
Poynder: We need that international corridor open, London especially. That's probably not going to have a huge impact, as Jason said, until we get Broadway open, but that's going to help the retailers and restaurateurs.
Stein: I think the airlines should say, "We will only allow you to fly if you have your vaccine." I know it's difficult from a legal perspective, but if we're trying to bring things back and accelerate it at a quicker pace, we just can't be that laid-back and expect that it's going to happen. Also, I don't know why Biden wouldn't just step up and say, "You know what? I thought this through, and I'm going to stop the enhanced unemployment on July 1, instead of September 5." I've been reading everything and people are having tremendous difficulty finding labor. I've been listening to every, both sides, left and right, talk on this. And I just think we need some bold moves from some people in charge to get things going.
Dandapani: Britain has introduced the vaccine passport. Jay is right. I cannot overemphasize the point that New York competes with Paris, Tokyo, even Singapore, and Hong Kong, and London. The city government needs to recognize that. Its budget has essentially been restored with the federal stimulus that has come in. So we shouldn't be cutting any services, whether it's sanitation, the police, or even the messaging that is so very important to say we are open for business once the corridors are reopened.
I'm seeing a lot of chatter, obviously, about rethinking hotels, potentially converting some of them. There's the bill in Albany to turn some vacant hotels into housing. Is this something that you've thought about for your own properties? 
Dandapani: That Albany bill is probably getting more importance than it deserves. There's only $100 million in it, as Jason and Jay will tell you very quickly, as developers, that doesn't take you very far for any deal as such. And so, it was more symbolic than anything else and developers who want to get into this space are going to do so anyway. But, remember, there are community boards that come to play when you start to change a hotel into some other use. So it's not a straight arrow.
And so how are you feeling right now?
Poynder: In the last four weeks, we've seen inquiries for meetings. Be they hybrid or in-person, they've spiked for Q4 and 2022, even if it may not be the same profitable sort of business we were looking at pre-pandemic.
Pomeranc: Whether or not it's going to be the roaring '20s or some equivalent of that, we'll see. But I think we're positioned for the strongest economic comeback for our sector that we've seen in a long time overall.
Stein: Yeah, we have three hotels still closed today, but soon that number will go down to two. We're doing some big numbers. It's mainly weekend-oriented, and we used to spread it out a little more in New York during the week, but I think with the capacities changing and the hours going to 4 a.m. for the bars, I think we'll start seeing demand come back in for the rooms. There is a little light finally starting to show through. And there wasn't really any for a long, long time.
***
This interview has been edited and condensed.