There's an open secret amongst hoteliers: They love the 'B' in F&B. The 'F'? Well, there's another word that starts with an F they often used to describe it. That's because making money on food can be a difficult proposition for some. Unlike alcohol, there are many associated costs, spoilage, breakage—you name it. But as hotel operators have taken better control over the hotel P&L, with brands assisting by making cost-saving concessions, food and beverage has gone from a pejorative to a positive.
Anyone who orders a bottle of wine at a hotel knows he or she will be paying an upcharge of as much as 100% or even more for it. Not to mention that a cocktail or spirit at a hotel bar will make your eyes pop out when you look at your final folio. It is what it is, to use the parlance of our time.
It also used to be that serving food in a hotel was a necessary evil, where breaking even was a feat all its own. Rooms, not ancillary services, were the main source of revenue for a hotel. That typically remains true today, but as guests tastes have changed and new types of hotels are being developed, food and beverage as a percentage of overall revenue is becoming greater. In fact, at many hotels deemed "lifestyle," food and beverage revenue can account for more than rooms. It's a reason why hoteliers are now as or more focused on total RevPAR as they are RevPAR: Hotels have a stream of channels to generate revenue from and are concentrating efforts to optimize each channel.
In Europe, food and beverage revenue in May 2022 was up to €42 on a per-available-room basis, on level with May 2019 and up 155% since January 2022. In the U.S., F&B revenue still lags pre-pandemic levels, but is inching closer and closer, up 117% since January 2022.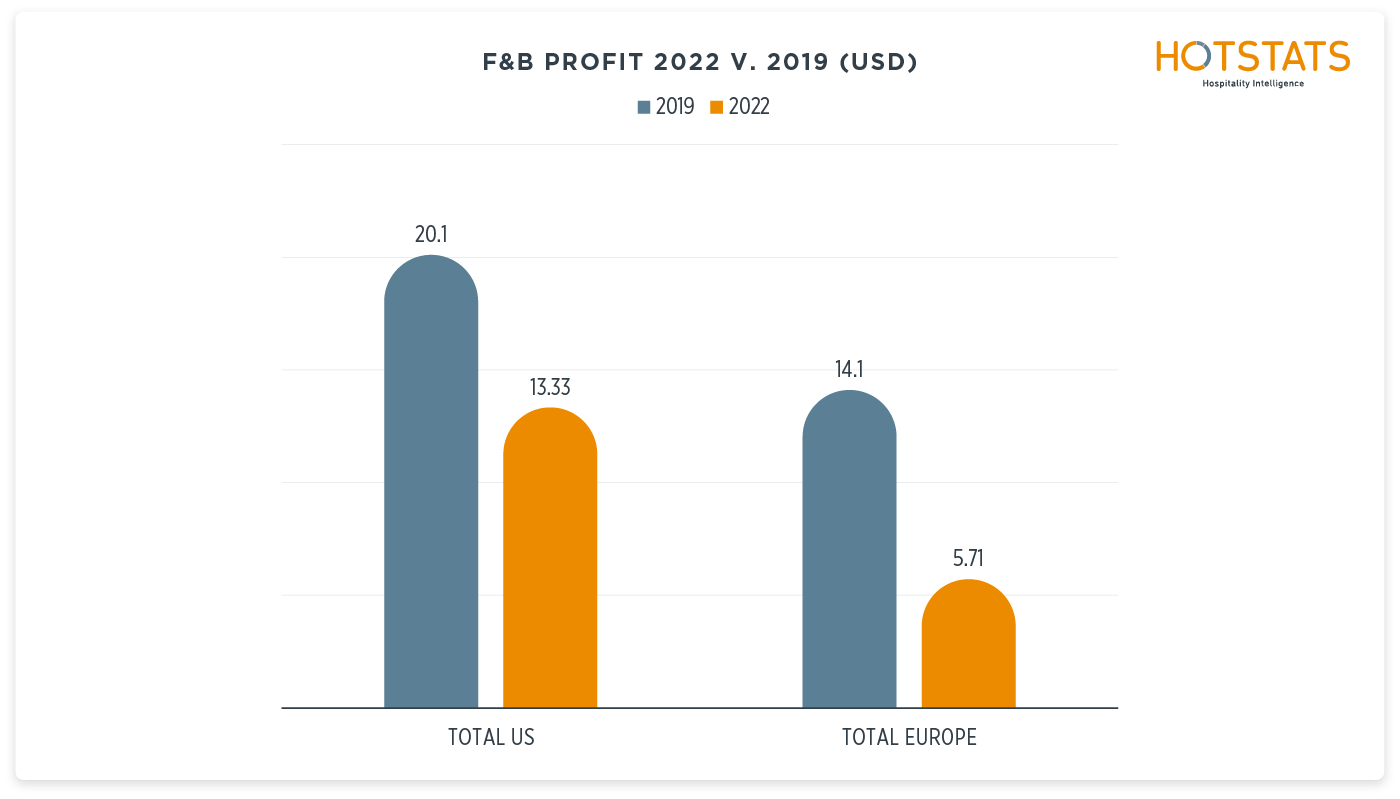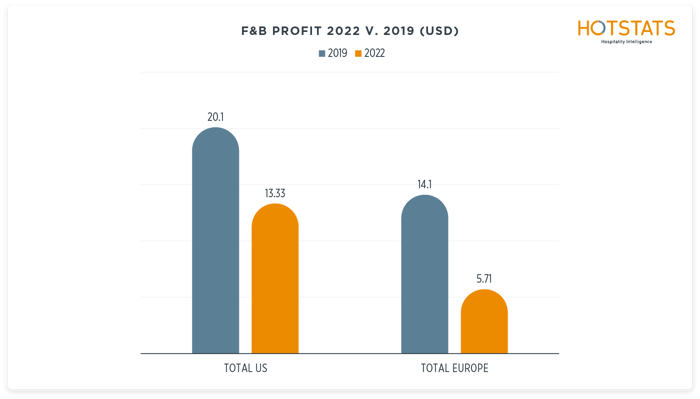 Food For Thought
The current trend in hotels is one that is great for hoteliers; not so much for value-conscious travelers. Under the guise of increased demand, hotel rooms, if you haven't noticed, are much pricier nowadays. It's sticker shock, to be exact. The truth is that occupancy rates are still not back to pre-pandemic levels. Consider Europe, where May's occupancy rate of 66% was still 11 percentage points lower than the same month in 2019, according to HotStats data.
On the other hand, ADR is back to or higher than 2019 levels. Hoteliers, it can be reasoned, might well be charging more to cover their increasing costs. Inflation hampers consumers and businesses, alike. According to HotStats data, total food and beverage cost of sales at hotels in Europe in May 2022 reached €17.31 on a per-occupied-room basis, which was €2.36 higher than in May 2019. Total food and beverage cost of sales hit a high mark of €20.26 in December 2021—the highest recorded level it's been in the past five years.
At the same time, food and beverage trends in hotels are changing. Walk into most any hotel, full-service and select-service, alike, and there will likely be a marketplace or grab-and-go section, which more than not have replaced the traditional three-meal-a-day restaurant. These types of outlets generate revenue at a lower cost, with savings on labor and many nonperishable items with longer shelf life.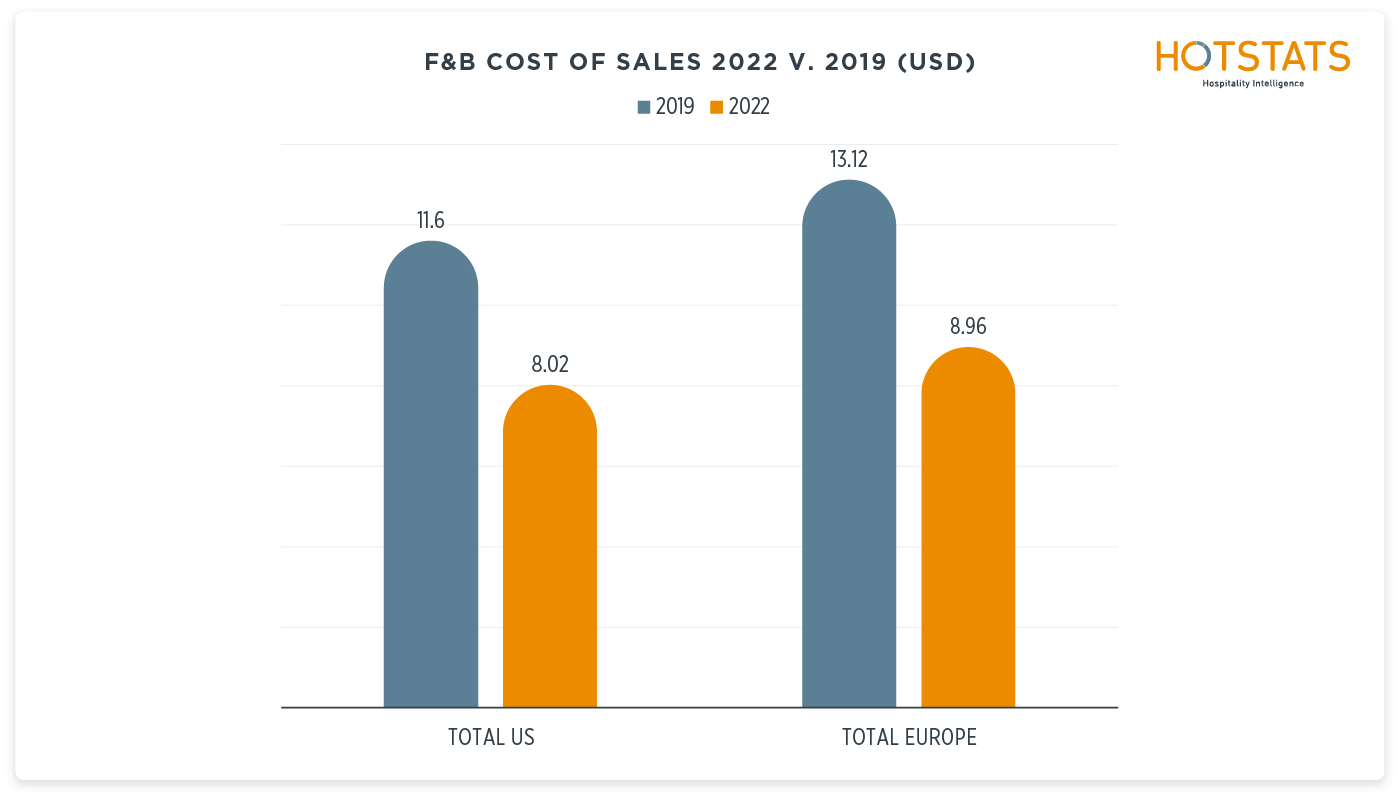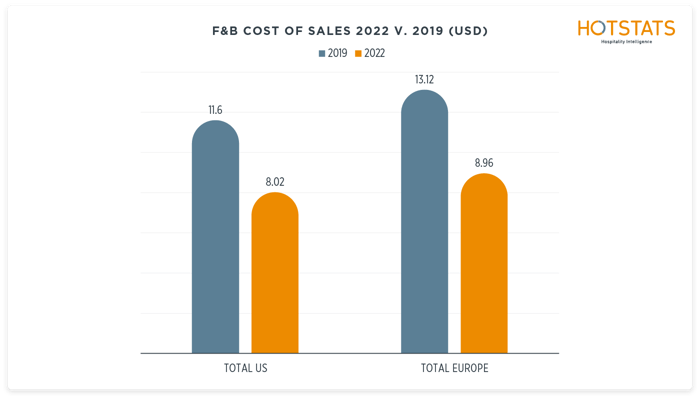 The data are now backing it up, said Janine Williams, CEO and Founder of Impulsify, a technology company that implements F&B retail services for hotels. She said that her company is seeing record revenue per occupied room stats in 2022 for the retail space that range from $2 to $9 depending on location and product offering.
"Packaged food has less waste on average as shelf life is longer, and with retail management system to measure sales velocity, it is much easier to predict what needs to be ordered or prepared to maintain the store with minimal product loss," she said.
These type of marketplaces or select-service offerings are also having a real impact on payroll numbers, limiting the amount of labor needed to operate the service, which also allows the front desk to be more guest engaged. "When using a self-service kiosk in the store, we see anywhere from 2,000 to 8,000 transactions per month moved off the front desk to the guest facing POS," Williams said, noting that it can amount to some 133 hours of labor saved per month. "That is an FTE that can focus all of their efforts on guest check-ins and authentic hospitality rather than retail transactions," she said.
A recent JLL article notes how hotel owners are looking once again to food and beverage as a source of profit, using COVID-19 as the impetus, which has underscored the need to "unlock fresh cashflow through ancillary income streams."
As F&B revenue continues to climb, hoteliers will especially need to be watchful of the bottom line, balancing the increase in revenue with the attendant growth in costs associated with F&B service.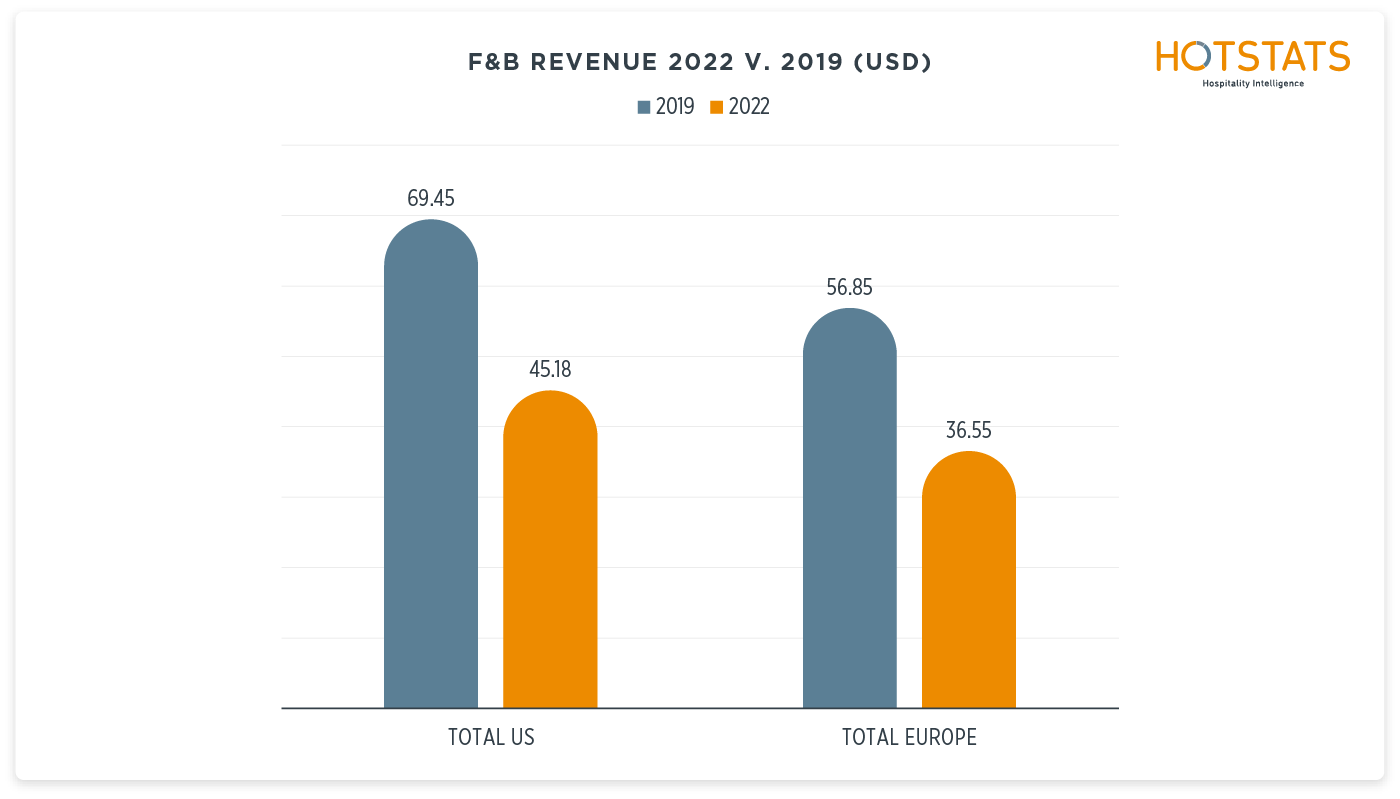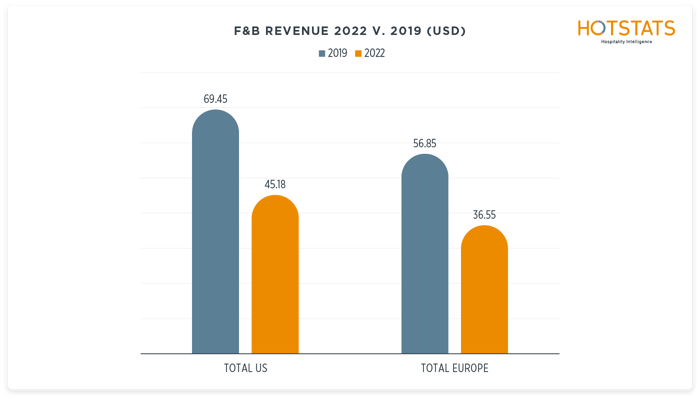 In the U.S, though revenue still has some catching up to do, F&B profit as of May 2022 was about in line with May 2019, a sign of the strong work operators have done in keeping expenses at bay. In January 2022, F&B profit was a breakeven proposition; in May, it jumped to $21 on a per-available-room basis. In Europe, meanwhile, F&B profit is now on par with 2019 and after turning negative in January 2022, is now up to €12.16 on a per-available-room basis, a 723% jump.
A lasting thought: F&B is, and can no longer be, an afterthought.
.