Most hotel rooms are already sold out in Regina for the 109th Grey Cup weekend and some say what's left is cost-prohibitive to many fans.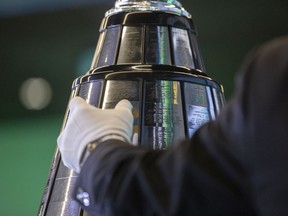 Article content
The CFL season has yet to start, but already people are having trouble booking hotel rooms in Regina for the 109th Grey Cup.
Article content
Steven King (no, not that one) is heading to his 26th Grey Cup this year, but he and others have had trouble finding lodging for the weekend. King said he's had this problem almost every time he goes to book rooms for a Grey Cup, as demand outpaces supply and prices jump.
"In '95 and in 2013 we stayed in Regina Beach and this year I couldn't find anything closer than Moose Jaw," King said in an interview Monday, adding that he's still looking for accommodations.
By his account, some hotels have upped prices by three or four times the normal rates.
Looking online at rates, the Ramada Plaza in downtown Regina offered a snapshot of the difference. For example, from Nov. 16-20 (the week of the Grey Cup) rates at the Ramada are $684 per night. For comparison, a stay at the hotel between Nov. 1 and 15 will run you $109 to $123 per night.
On Tuesday, Ramada Regina vice-president Darryl Caudle, said such finds are false as there's currently no availability at the Ramada for Grey Cup week. He also noted the hotel will generally charge between $200 and $300 per night, depending on the room, for that week.
"I get it, you know, supply and demand, and somebody will pay that," he said.
Changing with the times and trying new things King said he looked at Airbnb options but did not find cheaper rates.
"A place that was $95 a night August 12 to 17, from November 17 to 21 Grey Cup weekend is going for $1,135 a night," he said.
"For the average Joe, it's just not in the budget."
Article content
And while it might be tough on the individual consumer, the hotel industry has seen a boom in activity after two tough years weathered during the COVID-19 pandemic.
"We're hopeful for a city-wide sellout," Tracy Fahlman, president and CEO of the Regina Hotel Association (RHA), said in an interview Monday.
Since the last Grey Cup, 10 hotels and 1,100 rooms have opened in the Regina area, according to Fahlman, and even then demand has exceeded expectations.
"We're going to be accommodating, our guess, is over 2,000 more fans than we did in 2013," Fahlman said.
As for the actual price, Fahlamn said it does come down to supply and demand and what people are willing to pay. Room rates are ultimately the decision of the hotel and are "comparable" to what Hamilton saw last Grey Cup, she noted.
"They reached over $600 a night there," she said. As for Regina "there is an incredible amount of demand" that weekend.
RHA members account for 83 per cent of all hotels in Regina and the surrounding area. Fahlman said the last Grey Cup saw 94 per cent occupancy and this year she is confident numbers will be even better.
Glenn Weir, owner and general manager of the SureStay Plus Hotel By Best Western Seven Oaks, said his hotel sold out a month and a half ago.
During the pandemic, his hotel shut down its third floor and now in anticipation of the weekend, they are trying to reopen rooms on the floor.
"We're hoping we can have some more available for the Grey Cup," Weir said, adding he's dealing with a waitlist in the meantime.
Article content
For King, a Winnipeg Blue Bomber fan, he's willing to come back to green and white hostile territory for his third Grey Cup in Saskatchewan instead of, as he said, a cost comparative option of spending two weeks in the Dominican Republic.
Editor's note: This story has been updated to include the comments from Darryl Caudle.
The news seems to be flying at us faster all the time. From COVID-19 updates to politics and crime and everything in between, it can be hard to keep up. With that in mind, the Regina Leader-Post has created an Afternoon Headlines newsletter that can be delivered daily to your inbox to help make sure you are up to date with the most vital news of the day. Click here to subscribe.